Acknowledged and admired as a lapidarist of unique precision, Chamal Jayaratna is one of today's leading designers of jewellery and watches. His refined sense of style and love of all things exquisite have brought his work to the attention of jewellery lovers around the globe and won him many honours.
Chamal is famously associated with L'Azurde, one of the largest jewellery organisations in the Middle East, and also Australia's Brilliyond Jewellery, specialising in sapphires. Furthermore, this debonair award-winning entrepreneur is notable for being one of the very first designers in Sri Lanka to use the advanced computer-aided design (CAD) technique to produce his one-of-a-kind masterpieces.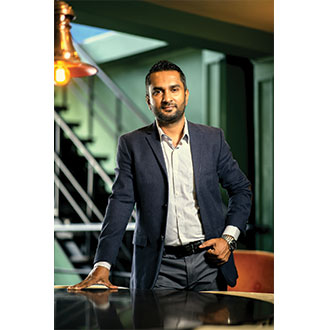 A true perfectionist who is steeped in modern manufacturing technologies, Chamal joins us today to talk about jewellery, computer-aided design and the man himself.
Let's start with this: why are women, in particular, so passionate about jewellery?
Well, jewellery has an unquestionable ability to bring out the best in a woman's features and personality when the right piece is worn by the right individual on the right occasion. It is important for a woman as it can make her feel beautiful, stylish, special, and confident. Jewellery ultimately plays a big role in enabling a woman to feel good about herself, and that's why it also has sentimental value for many women.
So do you believe that wearing jewellery can enhance a woman emotionally, personally and professionally?
Yes, jewellery has the capacity to make a great impact on a woman's life – as I mentioned earlier, it allows her to feel elegant and self-assured. An attractive piece of jewellery can also make the wearer seem strong and positive, enhancing her self-image both personally and professionally. Therefore, jewellery is an essential part of a woman's life.
In recent years, we've seen gender norms that categorise jewellery as 'feminine' or 'masculine' gradually being phased out. Does that influence your creativity in any way?
Such gender norms have played a role in the jewellery industry. People may see jewellery as something that women wear, and consider it odd when men wear jewels. Nevertheless, I have designed items that both genders could wear. There are no rules in the jewellery world. As gender norms became blurred, jewellery has developed as a form of self-expression so that today it is worn to highlight aspects of the wearer's personality. What is important is that, whatever the gender, jewellery should feel cool and comfortable to wear.
Tell us about 3D systems and the levels of design freedom you now have with digital creation.
The benefits of using 3D CAD prototyping technology in the jewellery industry are numerous. It all starts with a 2D sketch or idea that is turned into an intricate and detailed 3D design by software like Rhino, Matrix or Zbrush – CAD programmes specifically designed for modelling jewellery. The software facilitates the creation of very detailed pieces of jewellery by combining elements from a large choice of components, thus allowing us to see photo-realistic images of designed 3D models. The 3D printer then uses a wax-like resin as a printing material which is used for casting and turning these 3D models into wax. It saves time and improves quality.
Where do your design concepts come from? Where do you look for creative inspiration?
I express myself through creating jewellery designs inspired by nature and architecture.
What are your favourite materials to use?
Mostly precious materials like white, yellow or rose gold and coloured gems such as sapphires, also enamel and electroplating materials.
How do you navigate the dividing line between being unique and having commercial appeal?
It depends... Generally, I'm working with luxury platforms around a small number of one-off projects. When I receive an order to design for the commercial market, using mass production techniques, I have to discipline myself to do the work within a limited time period to meet delivery schedules.
Chamal, you've won numerous awards in world-class events. Just last year you were awarded the prestigious 'Luster Award' for Foam and Pearls Earrings at the International Pearl Design Competition USA. With an abundance of choices in the fashion and jewellery industry, how do you differentiate yourself from your competitors and keep coming up with these innovative yet marketable concepts?
Throughout my journey as a designer, I've never focused on what others are doing. Every project that I work on I see as a challenge, and I always try to create something unique which incorporates certain elements of my brand strategy and brand identity that can really make me stand out from my competitors.
What would you say are the upcoming trends in the jewellery and watch design industry?
While the jewellery and watch sector has to date been considered rather traditional, by 2025 it should be more brand-oriented, more digital and more sustainable than ever before, thus initiating a fundamentally new era of fine jewellery. With an annual growth rate of 8 to 12 per cent, branded jewellery will increase the most – about three times as quickly as the overall market. The result: an intensification of competition between established luxury jewellery brands, and new direct-to-consumer companies to cater for individualised, opinionated customers.
What advice would you have for an aspiring jewellery designer?
Don't compare yourself to other designers. You got into design to be creative, so let that creativity shine and use it to generate work that is as individual as you are!
Now, what about the man behind the jewellery—
Besides being, smart, stylish, sexy and savvy, who is Chamal Jayaratna?
Stylish and creative.
So, what's your latest wardrobe investment?
Hmm, I got the 'Audio AUX Men's Bracelet' I designed for a celebrity project with R&B Singer Chris Brown, as a memento. It was a music-inspired collection for NOVUM.
What's your favourite thing to do?
I used to work as a DJ during my school years and I've actually spent almost 22 years DJing as a hobby, so I guess music has always been in my blood. I love travelling too... it's the best part of life.
What are you currently working on?
I'm currently working with 'Design Gold Australia' on a diamond jewellery project, and I'm also with Brilliyond, Australia, plus W&W Paris, engaged in a luxury watch project.
Do you have one last thing you'd like to say to our readers?
In Sri Lanka, jewellery design does not have the same scope as fashion designing. Therefore, my future aspiration is to start a design institute for talented and aspiring youth who are passionate about jewellery design and want to gain in-depth knowledge of the industry and sharpen their skills.
Thank you Chamal! That was fabulous.
For more information on Chamal Jayaratna:
Instragram – chamalcj
Linkedin – Chamal Jayaratna