While there are no hard and fast rules of fashion, styling your accessories to suit the occasion is important. A drop earring that matches well with your cocktail dress might not be your best bet with a glitzy desi outfit. Most women miss out on styling their outfit up with a pair of earrings, but according to the wise words of Jennifer Lopez, "Women should never go without earrings. Passing them is an opportunity missed." So, it's safe to say the issue is not if you should wear earrings but what earrings you SHOULD wear.
During most occasions, we toy with a hoop or a stud we find comfort in. But it doesn't hurt to jazz up with a few more styles every now and then. Here's an overview on what earpieces are options for a stylish outlook.
Chandelier Earrings
Now that quarantine is done with for the most part, wedding season has now begun. Those last minute outfits will look absolutely bland without that statement earring adorning your ears. The best part about these pieces are that you could probably fancy up a very plain attire. If you need a very unique and stylish chandelier earring, or even a decorative tasseled cluster earring to add that good ol' bling to your outfit, Emerita Collection without a doubt has what you are missing.
Emerita Collection
Turkish Carved Earring (Rs.750/-)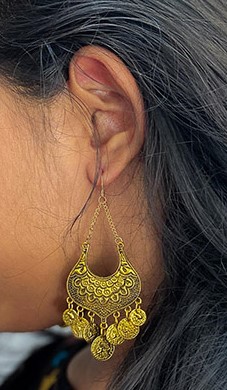 Boho Carved Earring (Rs.750/-)
Silver Blue Bead Blings (Rs.750/-)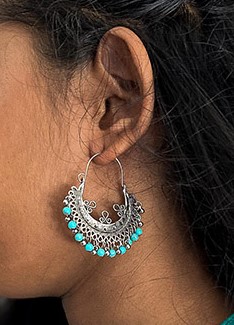 Bohemian Dangle Drop Earring (Rs.850/-)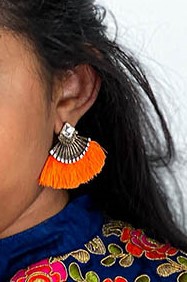 Emerita Collection is an online store and placing an order is just a DM/text away. Anyone can simply drop in a message through Facebook or Instagram (@emeritacollection) to get to know any details about whichever item they are interested in.
Elizabeth Tailor once said, "Jewelry has the power to be the one little thing that makes you feel unique" so just as much, every piece at Emerita Collection has the ability to make one feel unique as it is handpicked with so much love. Every piece of this collection has its own story.
Hoop Earrings
The debate is if hoop earrings are back in fashion, or if they never went off the trend. What all of us can agree on though is that hoops are worth owning. They highlight your confidence and make a daring statement. Pair a hoop up with a red lipstick, and you would seem untouchable. Hoops can be styled with a business attire and rocked at a business meeting, keeping the look very classy and not flashy. You can use the same hoops to add a touch of elegance on a little black dress during a date night dinner. The best place to find a hoop worth buying is at Cavallé.
CAVALLé
Abstract irregular hoop earrings (Rs.1500/-)
Silver vintage hoop earrings (Rs.980/-)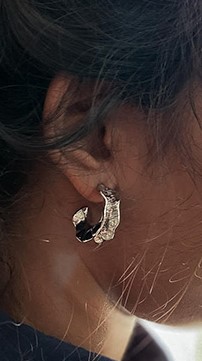 Customers can purchase through Instagram (@cavallelk) and get them delivered within 24 hours in Colombo and the suburbs. It will take 2-3 working days for an outstation delivery.
If you're looking for an alternative to your usual hoop earrings, CAVALLé is here to cater for the beautiful ladies looking to style their outfits with modern and versatile designs. All handpicked contemporary designs come with a little twist, from the tinier hoops to oversized designs that are great for any style and any occasion.
Dangle Earrings
Dangle earrings have been in the fashion industry for quite a while. It's one of those pieces that usually go with any casual day to day look and hopefully, would never go out of style. The length of dangle earrings range and can be worn according to your preference. Longer dangles probably work best with an off shoulder piece, while shorter dangles would suit a high neck or buttoned up shirt. They can be rocked with a day outfit or a night outfit accordingly. KRÀSA has some of the cutest dangling earrings that have a boho-chic finish to it and can help you spruce up your ensemble with style.
KRÀSA
From the 'Boho Queen' collection (Rs.850/-)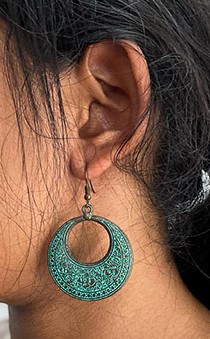 From the 'Rayie' collection (Rs.725/-)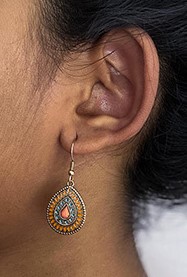 Orders can be placed through Instagram and Facebook (Kràsa.lk). Anyone interested could send a direct message and delivery would be made within a day or two. Including Island wide delivery. On request, special gift packaging could be obtained at a nominal cost as well.
KRÀSA works closely with talented artisans to bring you hand picked and sourced accessories. Kràsa.lk was created out of a need for ready-to-wear pieces at affordable prices. They take inspiration from Boho – Chic primarily and are a fashion-forward jewelry brand that caters to a young female audience. In addition to their exceptional customer service they apply their core belief, "IT'S ABOUT HER, ALWAYS AND IN EVERYTHING WE DO."
Tips to take care of your jewelry pieces
Jewelry, whether custom or costume need to be taken care of in a particular manner. Purchasing jewelry is never an easy thing so it is of primary importance to ensure that they are cared for. Body perspiration and moisture are some of the main reasons behind the discoloration of these fancy pieces. After having interviewed the retailers, here are a few tips and tricks to make your jewelry last longer and shinier over time.
Always secure your pieces in a jewelry box, Ziploc bag or a velvet pouch and never store too many pieces together. Doing otherwise, could cause oxidation.

DO NOT USE cosmetic products like perfume, hairspray or body lotion once you wear them. Make it a habit to put these on last and take them off first.

Keep your jewelry dry and clean them with a soft cloth or tissue after use
In conclusion, there is a wide range of earrings out there that could complement your wardrobe in a fun and elegant way. Support local businesses, peruse their Instagram pages and expand your jewelry collection because investing in jewelry can never go to waste. Next time you decide to go out, don't forget to complete your look with an earring to suit.