Nils has led an inspiring journey since it opened its doors in 2009. Her passion long ignited, co-founder Sithumini Prematunge launched Nil's monumental showroom in Nugegoda, which paved the way for an incredible tale that's bound to wow aspiring designers to follow their own. A flame passed down from her talented mother, Sithumini's awe of her dedication, work ethic and content founded the very pillars of Nils. Mesmerized by the smile that her mother donned when dabbling in fabrics and her knack for mixing and matching various colours and prints to produce stunning clothes, Sithumini was drawn to all which Nils would soon have to offer.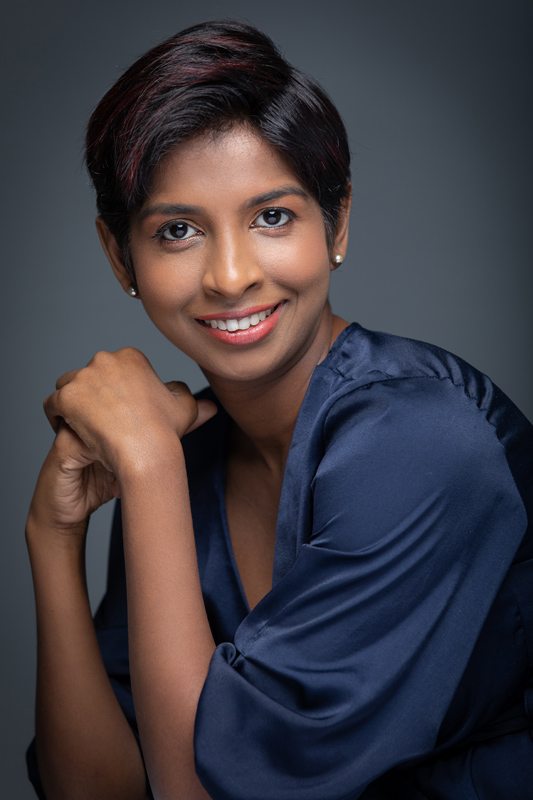 Following in her mother's footsteps, Sithumini took over Nils with a passion like no other. Striving to create clothes that are unique, stylish and practical, she herself is responsible for a majority of the stunning designs that adorne Nils' showrooms islandwide. Her sheer commitment in every aspect transformed Nils from yet another retail brand to one of Sri Lanka's leading ladies' retail clothing chains. Her bold choices in regards to designing, marketing, sales and even technology made great strides in expanding the company, and eventually earned Nils the first mover advantage.
Sithumini has a unique way of candidly considering all aspects from a customer's perspective, noting the small snags in the industry that has become the mundane and producing new collections that solves its dilemmas. For instance, understanding a woman's need for versatility when shifting from one event to another. Typically, having to change clothes for every occasion, be it for the office, a dinner or a celebration, and it's quite accustomed to due to a lack of better alternatives. Observing this, Sithumini introduced a simple and astonishing "desk to dinner" concept that swiftly resolved the dilemma altogether. And that says it all.
Staying true to Sithumini's vision, Nils empowers every woman to make a statement from the first glance to the last. Strongly believing that women can be both professional and stylish, the ladies' office wear does just that. Emboldening their customers to dress for success, Nils emphasises their confidence while adhering to their sense of professionalism and appeasing their bold fashion sense. With the casual wear, sleepwear and slipper line operating on a smaller scale, Nils coaxes its customers to be comfortable and fashionable beyond compare.
Needless to say, Sithumini's experience as a shopper shaped Nils to perfection. She designed Nils clothing with the typical measurements of various Sri Lankan builds, producing the perfect fit that we crave for. Realizing the struggle that she and many others face in procuring clothes in smaller or larger sizes, Nils is incredibly accommodating. Flattering women with elegant clothes that range from XS, all the way to 5XL, she truly leaves no woman behind.
Her flair for mixing and matching prints and visualizing various styles, passed down from her artistic mother, opened up a whole world of possibilities. Choosing to produce unique designs in limited quantities, Sithumini decided on a rare path for Nils that massively contributed to its success. It distinctively focused on the concept that customers dislike owning clothes that were mass produced, no matter how stylish or trendy, or having to risk wearing the same as someone else. And so, hand in hand with gifted designers who consistently develop unique prints, and the fashion forecasts and reports sculpting the blueprints, these would later be introduced to the market by Nils in various trendy designs that are quite unlike any other.
Sithumini's recollection of her mother's hard work which fed and educated her as a child and her being a mother herself, blossomed a soft spot in her heart for all mothers alike. Understanding the challenges of being a working mom all too well, Sithumini has gone out of her way to create opportunities since 2020. Fueled by the job losses incurred by the pandemic and the mothers that reluctantly resigned to stay at home to take care of their children, Nils made it their mission to extend a helping hand. Promoting opportunities to work from home moms who have disciplined themselves to work with minimum supervision, undoubtedly helped them immensely, mentally and financially, during this difficult time. Despite it being a rocky start, the campaign is a massive success and will continue for a long time to come.
Despite all hardships that came with being a woman, a fashion designer and an entrepreneur, Sithumini rose above it all. She states that managing finance was the most challenging task, as it is for any aspiring entrepreneur. Learning to grow proper controls happens over time and following countless mistakes which, as Sithumini can attest to, eventually lead to a smoothly running business and all the free time you need as an entrepreneur to bring new things to the table. With her time management and task prioritizing skills which have been moulded with experience, Sithumini now spends a very limited time on the business, which suffices for her to do her best. Having been in their shoes, Sithumini encourages aspiring designers to give it their all - it will most certainly be worth it as long as your heart is in it and you have the willpower to carry it.
Although Nils is well on its way to becoming a reputed and recognized brand, Sithumini wishes fellow retail brands all the success.With the pandemic negatively impacting various upcoming brands, she extends her support to local designers who've been disheartened and discouraged. Nils however found the pandemic to be an eye opener which kickstarted several innovative ideas into play that eventually looked into new and growing target markets, even overseas. Noting that Sri Lanka harbors countless talented designers with the potential to exceed international standards, Sithumini urges aspiring artists to locate the possibilities in the setbacks and aim for the stars, and ultimately contribute to the growth of our country.
In Sithumini's own words;
"Don't stop yourself just because others think that it is not possible. In your mind, if you think it is possible and you have a plan to reach your goal, put yourself together and start working on it."