'Fashion Revolution Week' (FRW) is a seven-day annual campaign that unites the world's greatest fashion advocacy movement in memory of the tragic 'Rana Plaza' disaster of April 2013. This devastating accident occurred when an 8-storey commercial building in Savar, on the outskirts of Dhaka, Bangladesh, gave way with 5,000 garment workers inside. On that day 1,134 workers were killed and more than 2,500 others were maimed, most of them young women.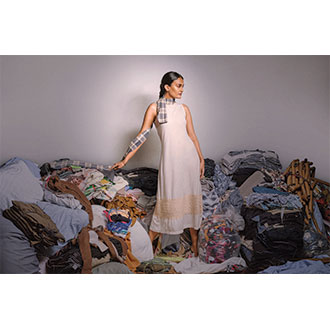 The disaster highlighted the human cost of a high-volume, low-cost textile industry where impoverished sweatshop workers are expected to produce vast numbers of garments in sub-standard working conditions. The precarious structure at Rana Plaza, which housed five apparel factories producing clothing for major Western brands in the USA, UK, Spain, Italy, Germany and Denmark, took less than 90 seconds to collapse. Earlier concerns about the safety of the building had gone unheeded.
This preventable tragedy has now become a symbol of the threat posed by cheap labour and poor working conditions in the global fashion industry, and the need for sustainable reform. It has also resulted in successful campaigns run by Fashion Revolution, educating and inspiring the global community to ask Who Made My Clothes? Who Made My Fabric? and What's In My Clothes?
The theme of this year's Fashion Revolution Week is 'MONEY FASHION POWER'. Its focus is on changing the lives and livelihoods of those downtrodden employees who work behind the scenes making the clothing we see in top international shops and on the world's fashion websites. FRW is also advocating proposals for changes in legislation that will require apparel suppliers and manufacturers:
to pay the legal minimum wage to employees, and give them the ability to bargain for better wages and working conditions;
to drastically reduce the environmental impact of their operations; and
to invest more of their profits into making their factories safer.
Most importantly, this year's theme carries the overriding message: 'The Global Fashion Industry Must and Should Value People Over Growth and Profit'! Nobody should have to lose their life for fashion.
Since Fashion Revolution Week was born, individuals from all corners of the world have spoken out in support of fashion industry reform and their voices are making a marked impact on human and environmental exploitation. There is a growing interest in 'sustainable fashion' and 'sustainable clothing' as fashion brands are coming round to the idea of conserving precious resources and regenerating ecosystems.
Sri Lanka produces a tremendous amount of clothing for export, and there is already widespread recognition of the fashion industry's impact on important social and environmental concerns. Many of the country's brands and manufacturers have taken steps to tackle the issue of fair wages for workers, and are striving for a more ethical and eco-focused enterprise culture.
For example, the 'Kantala' brand creates a selection of eco-friendly handbags while supporting the local highly-skilled artisans who make them, and preserving their traditional craftsmanship. 'Amma Natural Textiles' is an all-women team that produces bags, scarves and jewellery using botanical dyes sourced from plants and food waste, while 'House of Lonali' re-uses unwanted fabric to create bespoke clothing and lifestyle accessories. Today there are many more Sri Lankan brands that encourage consumers to appreciate the people who make our clothes and seek to ensure that their human rights are respected and protected.
Countries around the world should be encouraged to follow the lead of Fashion Revolution and take actions that will result in real change. Meanwhile, we as individuals can use our buying power to influence brands and retailers to support a revitalised fashion industry where garment workers are properly valued and cared for, along with our planet.
To get involved and take action:
https://www.fashionrevolution.org
https://www.kantalabrands.com/
#fashioncampaign #revolution #apparel #fashionmovement #sustainable #reform #lifestyle #brand #retailers #garmentworkers #cheaplabour #clothing #srilankan #'sustainable #manufacturers