A woman's lingerie can say a lot about her persona. While some of us are happy to stay focused on comfort and functionality, giving priority to practicality over appearance, there are others who choose hot, sexy collections in silk, chiffon, satin and lace. The truth of the matter is that high-quality luxury fabrics feel sensual and velvety on the skin, and super-fancy garments (such as push-up bras, thongs, corsets, silky camisoles, garter belts, hosiery, and lace-trimmed teddies) can be both elegant and playful.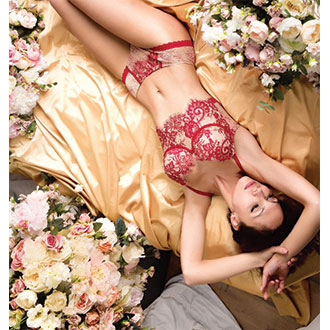 Splurging on beautiful, sultry lingerie can be an act of empowerment, an extravagant indulgence, and one of those little things one does for oneself – a secret pleasure. In fact, women who enjoy wearing beautiful and exotic lingerie are usually extremely comfortable with their sensuality and femininity. They appreciate that dressing erotically is not always about flaunting their sexiness, and nor is it for their partner's benefit only.
Of course, there is no question that wearing intimate underwear for someone special will generate a little magic, firing up their imagination and creating a flirtatious mood, but in my view there is nothing more sensual than a woman willing to dress for herself, not to impress, but to feel the sexual liberation, power and the glamour of her sensual lingerie under her clothes. She is daring and entirely comfortable in her second skin – celebrating her body and the freedom to express her inner desires and personal identity.
There's another simple reason for wearing pretty luxury lingerie, too – the quest for ultimate perfection. Undergarments that are seemingly invisible beneath clothes are often worn to improve what are commonly regarded as flaws in the female figure, and every woman – regardless of her size and body shape – should be seeking out lingerie that fits her well and which will enhance the appearance of her outfit. Seamless panties and push up bras are a good example of this, acting not only on our body shape directly, but also indirectly as they improve how we perceive ourselves. Feeling good about how we look results in better posture, and improved confidence has a positive effect on how we carry ourselves physically.
Switching to more luxurious lingerie can also contribute to your concern for the planet, as increasingly producers are offering environmentally-sound fabrics and manufacturing techniques, which you may be less likely to find in cheaper, more functional underwear.
If you're now feeling inspired to update your lingerie collection with the addition of a few intimate garments, items that are a little more fancy than your basics, it's important to know your body measurements to determine the right fit. To do this, you can visit an underwear store for sizing or use one of the many online facilities such as https://everydaylingerieco.com/pages/sizing. The simple rules are: measure yourself in your undergarments; stand up straight when measuring; and ensure the tape measure is level all the way around your body.
Don't be shy – enjoy fabulous luxury lingerie, even when it's for your eyes only, and start a love affair with yourself.
#Lingerie #Confidence #Fashion #PersonalFashion #BodyBeauty #Empowerment