'COVID-19' has definitely become a 'not-to-be-missed' topic in everyone's day-to-day lives and stepping out of the house without a mask on tends to make people feel pretty alienated in public. Wearing a safety mask is not only considered to be a part of the Government's newly set rules and regulations but it is also considered to be the "new normal" and not abiding by it seems a bit strange rather than it being a violation nowadays.
What is the purpose of wearing a facemask?
It is, first and foremost, worn to protect the spread of the corona virus and to prevent ourselves from contracting any infectious germs. Way back before we started to self-quarantine ourselves, facemasks was an accessory commonly used by celebrities when going in public or making an entrance with fans surrounding them close by. It was also frequently clad at airports, especially by K-Pop idols when they had to catch a flight which ultimately gave birth to "Airport Fashion". However, today, this is more than just safety armour; facemasks have turned to be the trendiest and latest Fashion Mania to date all around the world!
How did it all start?
On the 24th of April, American Rapper Eve Jeffers Cooper posted a picture on her Instagram, donning a black mask and hashtagging her initiative #MaskingForAFriend which was later followed up by some of our favourite sitcom and TV series celebrities -Mayim Bialik, Matt McGorry and Sophia Bush.
This is a cause which was launched by the Pandemic Action Network; an advocacy that helps to increase support and resources in order to ensure countries are better prepared to prevent, detect and respond to pandemic threats. The goal here was to spread accurate information about the benefits of masking as this is all about protecting our family, friends and loved ones. It also has its added advantage of celebrities taking on this trend making their fans to try it at home as well.
Amidst all this corona virus chaos, French Fashion Designer Marine Serre's Paris Fashion Week began on the Monday, 24th of February and this time, it was a little different; models wore a range of outfits along with matching facemasks. These masks have been described as "anti-pollution masks" by the 28-year-old and have been show-cased in her catwalk show to raise awareness and concern about the on-going pandemic.
Although arenas have been closed shut, large companies like the Universal Music Group have thought out-of-the-box and have created a line of facemasks featuring famous Music Superstars such as BTS, Justin Bieber,2PAC, QUEEN etc., allowing fans all over the world to connect and use this opportunity to spread love to their inspirations and Life Icons. Even Megabrands like Disney have partnered up and produced very innovative masks featuring our all-time favourite cartoon figures from childhood.
We can distinctly witness how "Fashion" meets "Function" in the Fashion World and how this global trend has travelled to several different nations within a short span of time.
We have seen many facemask ventures opening up in the past month or two and it is very intriguing to see how an international hype like Facemask Fashion has made a strong entrance into the Apparel industry impacting all kinds of designers and manufacturers quite largely.
We at HI! Online were able to get in touch with some local facemask brands in Colombo namely Mr. Maker, Persona Apparel, My Totes Bag, Wear Confetti and many more! We inquired about the factors that drew them to start up such a business, the responses and reactions received so far by frequent buyers and what aspects they've explored to fulfil the requirements of the target market when making facemasks. Here's what we've gathered!
"Mr. Maker" is a new start-up owned by Wasim Marikar Bawa and Shabbir Marikar Bawa who have impeccable training in fabric and garments for the past 6 years! Wasim had been exploring to expand into customised printed products for quite some time and ultimately saw his shot when medical facemasks came into everyone's attention. He thought it was a good platform to start off with by manufacturing high quality & comfortable fabric facemasks that don't only protect but looks good as well. The unique selling point at Mr. Maker is "the ability to produce vibrant prints on high quality fabrics". They have a Kids Range for tiny tots, a superhero range for Marvel and DC Fans and many more masks with little cute prints on them! The response from customers so far has been pretty overwhelming for Wasim as amazing remarks have come his way for his work!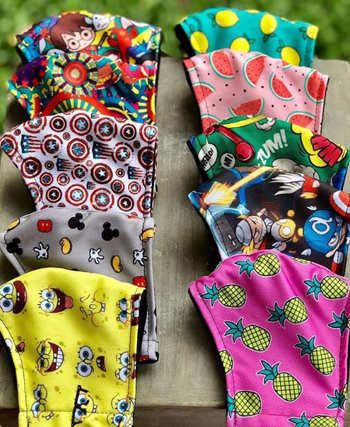 We contacted "Masks Sri Lanka" and they told us they were developing a product before COVID-19 took place but later on, decided to go ahead and produce masks as Sri Lankans would be using them sooner or later in public. They manufacture mainly 2-ply and 3-ply 100% cotton masks which are customizable according to the purchaser's preference.
"Persona Apparel" is a brand which is not just about fashion- "We want to make a mask that people can be comfortable and safe in while looking really great in them". Since the facemask trend may not seize anytime soon, Persona has gone out of their comfort zone to create a fantastic range of plain-coloured and vivid, different printed designs allowing their buyers to mix and match their masks with their clothes; "We have approached our designs by putting safety & comfort first rather than focusing on fashion because we think that is the main requirement of a mask. Fashion comes second on our list". They've emphasized on how facemasks are a "more visible accessory" compared to ties and socks and that it's a great way to showcase style and uniqueness.
"We also saw a huge gap in the market for masks that actually do a good job when it comes to filtering" Persona added.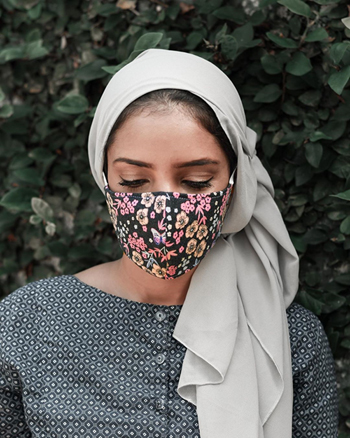 We also approached "Wear Confetti" who thought of starting up something because they had free-time in their hands and the current situation motivated them to conduct a donation campaign which would do a great deal in helping the needy. They too have been receiving immensely satisfying feedback from regular buyers and are willing to improve their products even more in future. Wear Confetti consists of very soft and stylish face-wear which can be typically worn for outings and dine-outs at fancy restaurants.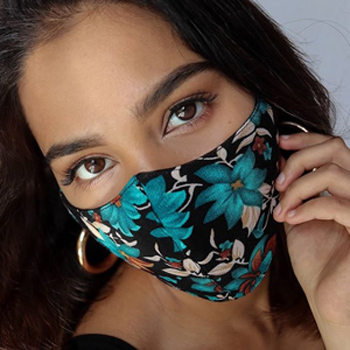 "Funky Munky" was founded by Shafraz Shakeer and he told us at Hi! Online that in the first few days of lockdown, he figured that safety masks would be mandatory in the foreseeable future and he wanted to come up with an accessory that would be fun and encourage others to wear it constantly. "We cater to people such as petrolheads, sports fans, marvel fans, FRIENDS fans and a lot more designs in the pipeline" stated Shafraz. Funky Munky is also willing to improve their products by inquiring their customers for potential feedback with an open mind so they can perform better.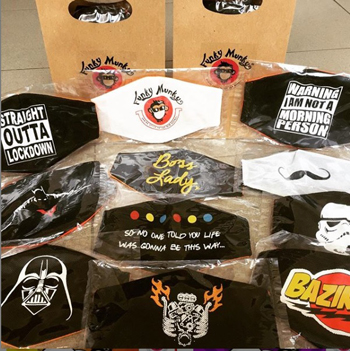 "Nipunika Fernando Design" is an already existing brand which moved into facemask fashion abit before pandemic as accessories for custom avant garde and festival fashion. Nipunika has astoundingly inputted product differentiation as she complies to requests made by her customers to design wedding masks for Sarees, hand-painted designs.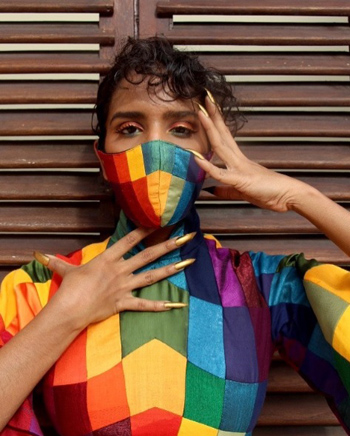 "My Totes Bag" enlightened us with some very detailed reasons as to why they joined this fashion trend; "People had to spend Rs.45-50 for disposable masks which can only be used once. Also, disposable masks are becoming a pollution hazard as most are discarded after a single use". After doing a full background check, they decided a re-usable fabric mask with three layers and a soft ear loop would be more comfortable and affordable. My Totes Bag's collections include floral prints tailored to the ladies, professional masks for the gents, trendy masks for today's youth and cute prints for the kids which includes the things they love the most. Affordability and health and safety are vital factors they pressed upon and they didn't fail to mention that their masks are NMRA approved with a safety rating of over 98% BFE (Bacterial Filtration Efficiency).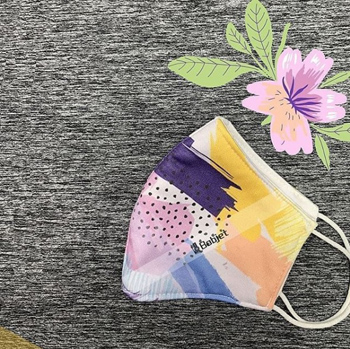 Having witnessed the comfortability of some of these super-cool masks, they are, without a doubt, many of the 'go-to' mask brands that are highly recommended to purchase! Not only does it feel comfy but it also make heads turn sideways when going out in public! So we urge you to go buy a fancy mask because not only does it protect you from the contagious virus but gives you an opportunity to style your everyday clothes and to feel confident whenever you're out and about; it's all about expressing yourself!