Text by Tina Edward Gunawardhana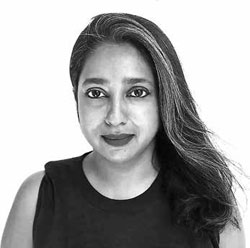 How did your journey into fashion begin?
Ever since I can recall, I have loved clothes! I wanted to study fashion but ended up doing a degree in political science and art history and from there interior design. After working for an architect and an interior designer, I slowly got into making and designing clothes around 2001.
What inspired you to create the sari dress?
Indian garments are often a starting point for creating something new and I love the sari for its many draping variations. The sari dress was just a one-time design that merged the sari with western dress to make an easy to wear garment. I did not think that it would become our most popular design!
Did you have any apprehension if the sari dress would become popular in a nation of conventional sari wearers?
The sari dress is not meant to replace the sari! In fact I often tell women to wear a sari and if they do not know how to wear one they can visit a project that I worked on closely where we documented over 80 ways to wear a sari - The Sari Series www.thesariseries.com. Even if it became popular, I still think the sari would prevail!
What is your latest collection called and how would you describe it?
Collection 5. It is an exploration of techniques and textures.
Why did you take the bold move of relocating to India from Canada?
The textile and craft traditions of India have always been of great interest to me so it made sense to move to Delhi in 2012 to start a clothing line using as much handcraft as I possibly could!
Where do you gain your inspiration from?
Everywhere. Life.
How did you get into costume designing?
While I used to freelance as a designer, costuming opportunities began to come my way and eventually I made it my focus for a few years while in Toronto.
What sort of fabrics do you prefer to work with?
The majority of my fabrics are natural and handloom - silk and cotton. We do also use mill-made silks and viscoses, but handloom has been our focus.
What motivated you to publish Sar: The essence of Indian Design?
My co-author Swapnaa Tamhane, who I have been friends with for almost 20 years started discussing a book on Indian design objects about 7 years ago. We could not find many books exploring Indian design nor had there been any notable exhibitions, so we decided to make Sar with Phaidon Press.
What projects are you currently working on?
I am excited to be working as one of the Craft Curators for The Serendipity Arts Festival in Goa this December, where I will be exploring functional everyday objects through the handmade.
Are your designs available in Sri Lanka?
Yes. They are available at the PR store in Colombo.