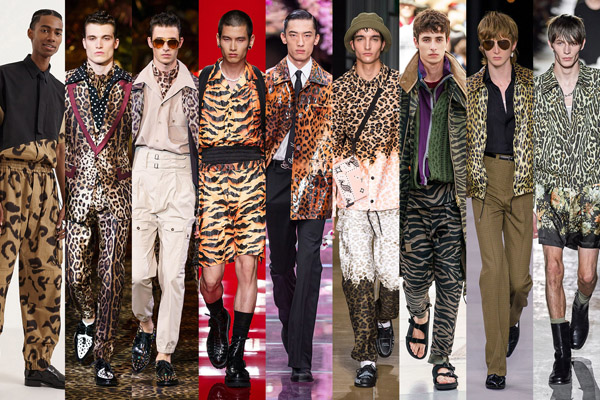 If you guys are wondering how to look hip and hot when you step out in 2020, don't sweat it! Hi! is here to give you the head start on how to be trendsetting and confident whatever the occasion. Whether you prefer something lightweight and functional, or outrageously OTT, this is going to be the year you rock your style!

Animal print
From oversized preppy shirts at Balmain, Gucci and Lacoste, nineties-style cargo trousers at Qasimi, Fendi and Stella McCartney, shirting fabrics, satin and light cotton boxer shorts worn as shorts at Prada, Versace, Giorgio Armani and Fendi, to an animal print extravaganza of tiger-stripe and leopard/zebra-print shirts finding their way back into your wardrobes...This is the year to release your wild spirit.

Neon pink
You can discover multi-coloured combinations in menswear departments across the globe and bronze, maroon, copper, burgundy and chive are a few of the top favourites. However, a dose of bright colours isn't always essential when you want to make a bold fashion statement. A variety of monochrome shades such as white, beige and mushroom can be co-ordinated to create some seriously eye-catching outfits. Having said that, the signature shades for 2020 are vivid saffron and neon pink!
So here are your 2020 fashion essentials:

Boxer shorts
Preppy means chino shorts – usually tough, twilled cotton khaki – military style.
Athletic shorts – an easy option when the situation requires casual - pastels are hot but you can also wear black or navy.
Jorts – denim jeans turned into shorts (cut-offs) - slightly above the knee - a casual look that can be dressed up with a nice top.
Silky smooth boxer shorts – comfortable and sexy enough to wear with your favourite shirt.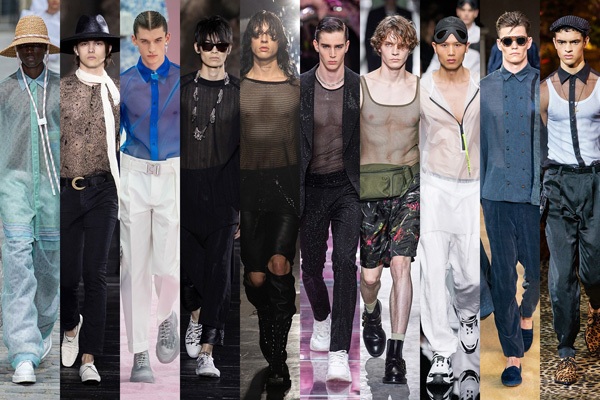 Shirts
Oversized Oxford short-sleeve shirt button up - keep the heat in mind and go for lightweight linen – rugby shirts work well with chino shorts or a pair of jeans - the bigger you wear yours, we reckon, the better.
Patterned short sleeves are very in fashion right now – floral.
Sheer – It's all about going see-through - all-but-invisible sexy rock star-ready vests, shirts and T-shirts.
Bowling - silky, boxy and complete with spread camp collars - ultra-louche and worn open.
Jeans
Avoid "true blue" and try out some lighter shades.
Black jeans will always look good.
Chinos - the lightweight material was made for warm weather - olive, grey, blue, and pretty much anything non-fluorescent.

Cargo trousers
Nineties-style cargo/combat trousers
Drawstring ties for a more cinched waist – in earthy tones.
Loosely flowing with larger-than-life pockets – workwear-inspired.
Billowing with risqué slits – street style.
Chic and close-cut - straight and tapered.

Van/Boat shoes
Vans or boat shoes - go with just about anything - keep the colours subtle this year – white or black and white.
Sneakers - sleek and low profile – white leather sneakers are a winner for 2020.
Sandals - chunky - heavy-soled strapped-up - makeshift-looking hiking sandals - wear with socks if you're brave and without if you, well, aren't.

Sunglasses
Sunglasses Sunglasses are must-haves so invest in a quality pair – classics or what's trending in terms of shapes, colours and eras – Watch out for Hi! Magazine's upcoming article on "Essential Tips to Ensure you Eye up the Right Sunglasses for your Face Shape".