Chloé Perera, better known as hair by chloé on her social media platforms, is a TikTok sensation famous for her bold hair transformations that never cease to please us. Her posts have us wanting a new hairdo every other day. Here's Chloe talking to us about her journey, the industry and tidbits of her life and experience. She's even snuck in a hair care tip or two that's definitely worth knowing. Keep reading to find out.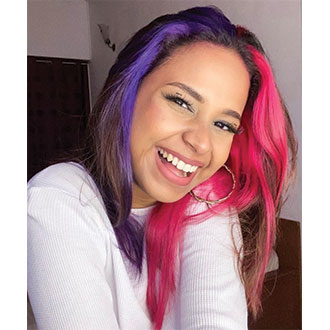 1. What is your inspiration?
I think my inspiration comes from so many different avenues. Initially I was attracted to this industry because my mother is a hairdresser as well and so I grew up seeing her do it almost every day, so it just became second nature to me. Also just seeing what international hair stylists do on a daily basis is so inspiring. The art that they put out there just makes me want to become better and to learn more and be on par with them.
2. How long have you been in the beauty industry and where do you see yourself in the industry years down the line?
I have been working in the beauty industry for a little over 6 years now. I definitely see myself doing bigger and greater things hopefully on a more international scale and more specialized. I definitely want to focus on perfecting my skills as well in the future. That's the main goal as time goes on.
3. Can you tell me a little about how you started?
I started just out of school by studying at a hair and beauty academy in Sri Lanka and was later absorbed into the same company and I've been there ever since!
4. What would you say is your biggest take away from your experience so far?
My biggest take away from being a hairdresser is definitely having a new respect and admiration for service industry employees. Being one has influenced how I treat other service industry employees. I understand what it's like being on the other end and I know how important it is to just be kind and grateful for their service.
5. In the instance a client requests for something you believe would not look good on him/her, how do you deal with it?
I think the easiest way to change their mind is to simply suggest something that I think works for them. I never shoot their ideas down completely, instead I try to find a middle ground and something we can both agree on so that the client is happy, and I feel good about what I do for the client as well. If I do have to disagree completely, I always back up what I have to say with explanations as to why it doesn't work so that my client fully understands I only want what's best for them and their hair.
6. What is the biggest hair care mistake you have seen your clients do?
The biggest mistake would definitely be people skipping conditioner. Sometimes they feel it makes their hair limp and flat but there are appropriate ways to use it and suitable products as well. It's really a nonnegotiable step in hair care.
7. Three must watch TV Series.
Criminal Minds, Ginny & Georgia and The Woman in the house across the street from the Girl in the Window.
8. What is one essential hair care tip you can give our Hi! Readers
Use a sulfate free shampoo. This changed everything for me when I started using one. Sulfate is basically detergent that is way too harsh for your hair. Using it can cause your hair to be unnecessarily dry and strip your hair color as well making it fade faster. So definitely use a sulfate free shampoo.
9. According to your social media, you experiment with your hair a lot. Is there anything you've regretted doing in terms of hair experimenting?
I don't think I regret doing anything to my hair because it's always about me having fun with it and just experimenting and being myself. I do regret not doing the crazy colors earlier though!
10. Your 5 daily essentials to carry around.
My wallet, my pouch with all my hair tools in it, an extra mask, an extra scrunchie and hair clips and a lip balm.
11. What would you say your favorite and least favorite thing is about doing this?
My favorite thing about this job is definitely being able to be creative because every client is so different and so every experience with them is also different. It really gets my creative juices flowing. My least favorite thing about this is definitely the back and feet pain after standing for hours on end!
12. I believe that behind every set back is an opportunity. Have you ever had any setbacks and if so, what were some of them?
I think everyone experiences some sort of setbacks and the setback I've experienced most is people doubting me which causes me to have doubts about myself. You can be underestimated by clients and coworkers when you're so young and a woman in this industry. People want to keep you in this particular box, or they want you to do well but never better than them and they believe in traditional mindsets. But I always love the opportunity to prove them wrong and to shatter people's expectations.
13. Hate on the internet is inevitable. Is that something you have to go through and how do you deal with it?
Thankfully I haven't dealt with any hatred at all on the internet yet. I think it is inevitable with success on social media, but I also know that people will say things about you when you do the right thing and the wrong thing. I think the way I would handle it is to simply remind myself that they're also human and if it's not going to matter in 5 years, I won't waste 5 minutes thinking about it.
14. Hair by Chloé has become a personal brand. How would you describe it?
Hair by Chloé is definitely a girl's girl brand. It's all about being confident, being different and being unafraid. It's really about me helping my clients become the best versions of themselves and all the different versions of themselves they'd like to be as well.
15. What would you say is the most exciting moment/event you've experienced since getting into the industry?
It's really simple but I'm always super excited when I reveal a client's new hair color. The look on their face when you can tell they love it, and they feel different and confident. They don't stop touching their hair and looking at themselves in the mirror and it's like they're in love with the way they look, and I helped create that moment! So that's definitely huge for me, it's the best feeling.
16. What strategic advice do you have for up and coming hairstylists?
Be patient and work really hard. It might take time but if you're focused and you're doing your best, your clients will find you and they'll want to stay for you. Be confident and show your talent off to the world.
17. What does a typical day in your industry look like?
A typical day is showing up to work at 8:30am and cleaning up my workspace, checking my appointments for the day and getting whatever supplies I need ready. Once I start to do clients, I try to make time to have snacks in between and reply to messages and inquiries from clients online. I usually finish work by around 6pm and then post some of my work online and reply to client inquiries. And then I get ready for the next day again.
18. A hair look you've always wanted to do but couldn't find the nerves to do?
I've always wanted to shave one side of my head! But I know that my hair regrowth is going to look very odd because I have curly hair so I'm not looking forward to having to deal with that which is why I haven't attempted it yet.
19. Lastly, for all of us who want the infamous Chloé to revamp our look, how do we get in touch to place appointments?
I think the best way to get in touch with me is through my Instagram! @classichairbychloe Please feel free to DM me anytime and I will get back to you for sure with all the information you need!