Did you know there are 42 countries involved in commercial seaweed activity? Or that no fewer than 221 seaweed species are used regularly in food, medicine, cosmetic products, pharmaceuticals, fertilisers and animal feed?
In fact, seaweed offers bio-active compounds that aren't available in land-grown plants. For instance, 'fucoidan' (found in various species of brown algae) has valuable antiviral and anti-inflammatory properties. But before we discover more about how seaweed can be beneficial to your health, let's take a look at commercial seaweed activity in Sri Lanka.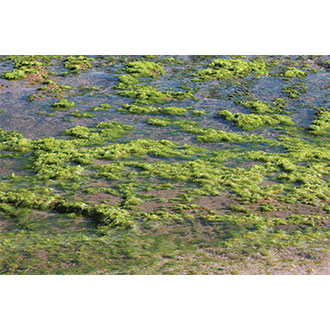 Currently, seaweed is being farmed using sustainable and eco-friendly cultivating techniques in the northern provinces of Mannar, Kilinochchi, Nainathivu, and Karainagar, where the two primary species that are farmed are 'Eucheuma spinosum' and 'Kappaphycus alvarezii' (types of red algae), primarily for export. Both are important in the production of carrageenan, which has a wide range of commercial and industrial uses. Seaweed seedling banks can also be found in Mannar, Kilinochchi, Jaffna, Nilaweli, Kayankerni, Okanda, Tangalle, and Kalpitiya in Puttalam District.
Earlier this year, more than 300 families living in Nedunkerny in the northern Vavuniya District were given the go-ahead by Fisheries Minister Douglas Devananda to engage in seaweed collection with the intention of selling it. He also authorised residents of the Kilinochchi District to earn more money from seaweed harvesting, in order to improve their standard of living.
As seaweed is a common sight along Sri Lanka's southern shore, this would suggest greater potential for starting seaweed mariculture as an additional source of income for smaller fishing villages in southern Sri Lanka.
What are some of the health and beauty benefits of seaweed?
According to experts, the high concentrations of iodine, potassium, calcium, iron, magnesium, and polyunsaturated fatty acids make it a valued addition to our diets, even reducing the risk of type 2 diabetes and heart disease. Its antioxidants, vitamins and minerals also make it a powerful anti-aging ingredient that can regenerate and protect the skin. But there's more...
Seaweed is:
a powerful anti-inflammatory agent that can aid in reducing acne-related irritation.
rich in B vitamins which can help keep skin conditions like rosacea under control.
an excellent exfoliant; by adding sea salt, it can get rid of dead skin cells and toxins.
good for your hair and able to repair damaged strands caused by over-styling. (Using shampoos and conditioners containing kelp – also known as brown seaweed – may also help strengthen weak hair).
rich in vitamin C which promotes collagen production and helps keep skin youthful-looking.
excellent for detoxing and deep cleansing, thus improving the skin's overall health.
a great source of calcium and iodine which are needed for strong and healthy bones.
beneficial for balancing hormones, particularly for women in midlife, as it provides iodine necessary to combat issues such as thyroid dysfunction and fatigue.
As you can tell, seaweed is an exceptionally versatile product so 'shout out' for more seaweed cultivation and look out for seaweed-infused skincare and haircare products. And don't forget that you can eat it, too – seaweed is suitable for use in a wide variety of nutritious dishes such as soups, stews, salads and even smoothies.
#seaweed #seaweedcultivation #seaweedfarming #seaweedbenefits #anti-inflammatory #health #beauty #skincare #anti-aging #bones #haircare #detox #hormones #iodine #nutritious