What better way to start the morning than to chat with young model and entrepreneur Sheron Philomen who, back in 2017, took the Catwalk Model Academy by storm, winning the titles 'Mr Catwalk', 'Face of Sri Lanka' and 'Mr Handsome'.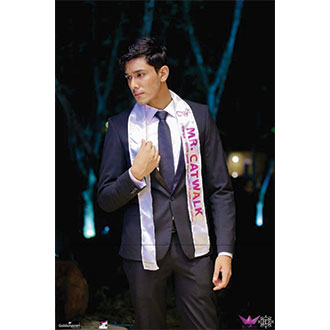 Sheron, what have you been up to since you started your modelling career at the academy and what came out of taking part in the Catwalk competitions?
Back in 2016, I started training as a model with Catwalk Model Academy then, in early 2017, I won all the main awards such as 'Best Model' 'Best Catwalk', and 'Mr Handsome'. I'm the first-ever 'Mr Catwalk' to come out of the academy.
The first contest I entered was 'Face Of Sri Lanka' in 2017. I won the pageant and from that, I had great opportunities to model in several fashion shows in Korea while participating in 'Face Of Asia' and the 'Asia Model Festival'. Since then, I have entered the entertainment business for YouTube content creation while continuing with my own business ventures as well.
So, has the global pandemic affected the model industry?
The pandemic did affect the industry and, like so many other businesses, everyone lost opportunities to work and pursue their careers. Many Sri Lankan people have lost their lives to the virus and my prayers will always be with them and the families they left behind. Thankfully, I think the situation is getting a little better now.
What is it really like to be a model and what are your expectations and hopes for the future?
Suddenly having all eyes on you does feel good but you can easily feel overwhelmed. Mostly, I've never been afraid to stand out in a crowd so winning the awards has given me the confidence to further my career in modelling. My plans for the future are to enter the international model platform and work with the world's leading fashion brands whilst bringing pride to my motherland. Currently, I'm represented by 'TalentXAgency' which is helping with my career development and the achievement of my goals.
As a content creator at YouTube, do you consider yourself an influencer?
At some point, we are all influencers in our own way and, yes, I do consider myself an influencer. I like to give people good vibes and a smile and in fact, I've thought about changing my approach of content creating to something different, which you'll see on my YouTube Channel "Sheron Philomen".
Is having an audience part of your social media management and a good opportunity to be seen by influential people in the fashion world?
Yes, as a model or an artist you should gain an audience with positive vibes and try to personally interact with your followers. I disapprove of some of the ways individuals crave to become noticed these days. They are too eager and sometimes unprofessional in the way they manage their online presence. The goal should be more about achieving popularity with their fans, and not just fame.
Do Sri Lankan model agencies have a standard height range? If so, does being tall make auditions a challenge?
I haven't come across any height requirements at castings that I've attended although my 6' 5" height has always been a positive talking point.
When was your first photoshoot?
My first photoshoot was back in my academy days but, at that time, I still needed a lot more practice with posing naturally etc. Eventually, I learnt to pose and strut down the runway professionally and became much more relaxed and confident.
What kind of modelling do you prefer?
I'm into Runway where you need to have perfect posture, though I also like commercial modelling too. I'm always open to other opportunities that could help me reach my goals.
What are your hobbies or interests outside of modelling?
I love to travel and explore new cultures, and I'm a major comics and movie buff.
Is it important to you to follow a particular diet or beauty regime?
Yes, as a model, having dedication and discipline with yourself is a must! It's self-love and a value that everyone should have. While it's important to take care of your body and appearance, everyone has to figure out what works best for their bodies too.
Describe your personal style. Where do you get your inspiration from?
I don't like to follow or copy anyone's style. I love being original. I don't want people to say that you are the local James Bond or whatnot. I want my own image to shine and be who I am... Sheron Philomen.
Who is your favourite designer and why?
I have a few, but probably the iconic clothing designer Giorgio Armani for his unmistakable collections.
What's the best piece of advice you have gotten in terms of modelling?
Nothing's given free in life – if there's something you want, work hard, be smart, find your strengths and put effort into what you believe. The best is yet to come...
If you weren't modelling, what would you be doing?
Some kind of business which was related to modelling and YouTube... That's all I'm interested in and what I love doing.
Thank you, Sheron.
https://www.youtube.com/c/SheronPhilomen
https://www.instagram.com/sheronphilomen/
#model #srilanka #srilankan #fashion #youtuber #entrepreneur #catwalkmodel #modelindustry #photoshoots #influencer #modelling #men'sfashion #competitions #awards #fashiondesigners