Text by Tina Edward Gunawardhana
Photos by Ihthi Fahim
Hair and make up by Madushi Rajapaksa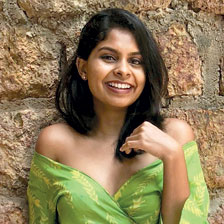 An island girl at heart, Dishnira Saparamadu revels in her passion for fashion design. Her brand Thambili Island is a young and energetic brand with a cool vibe to it. After completing a BSc (Hons) in Finance, Accounting and Management from the University of Nottingham in the UK, Dishnira did a pattern-making course while on holiday in Sri Lanka. This held her in good stead when she decided to embark on a career in fashion design. A firm believer in empowerment and ethical fashion Dishnira uses a women's cooperative to create her clothes. Loose silhouettes, tropical colours and stylish cuts are the hallmark of this brand which resonates well with island life.
How long have you been a designer for?
Design has been my passion ever since I can remember. I come from a very creative family background where the love and appreciation for art has been embedded within us. When we travel abroad, we spend most of our time in Art Museums. My mom is my biggest inspiration and she taught me to stitch my own clothes. I've been designing clothes for myself and my friends on a small scale for about five years now.
Where did you study design?
One summer back home from college I followed a pattern-making course where I learned to create patterns from scratch. This course also helped me better understand how to work with different textures and how each fabric drapes. I follow the natural drape of the fabric in my designs.
When did you first realize you wanted to pursue a career as a designer?
This started off as a hobby with me creating clothes for my friends for special occasions which grew into a business opportunity/career once I returned to Sri Lanka after completing my higher education. My friends were very encouraging and I started pondering on the idea of launching my own label.
When did you land your first internship and what was the most valuable thing you learned from this experience?
My first design related internship was with Rumpunch. This was a part-time position which I did while pursuing my full-time career as a Business Analyst in a leading IT firm. It was a great opportunity to work with Rukshi and Binara, the founders of Rumpunch. Their creativity, dedication and the passion for the work they did clearly translated into their work. This was the first time where the tables were turned, and I was the one interacting with customers, instead of being one! The excitement when they try on a garment and fall in love with it, was an energy that inspired me.
How did the name Thambili Island come about?
I wanted my line to invoke a Sri Lankan identity. The breakthrough came through a very casual conversation with my friends while we were vacationing in Ella. Thambili is iconic and translates globally! Any foreigner who's been to Sri Lanka would identify the tropical island with the calming and soothing effect of drinking thambili water. This was in line with my inspiration to quench the thirst the island had for tropical wear.
Tell us about your line. What was your inspiration for this collection?
My current collection Life Under the Sun, is inspired by the terracotta red and amber washed building of Bologna, Italy. The harmony of the colours made a lasting impression on me. These shades paired with intricate lace detailing comprise my capsule collection. Lace detailing placed tastefully is a statement piece you can see throughout my garments. In every collection even if the inspiration is drawn out of my travels overseas, I always try and pay homage to Sri Lanka. 'Pol Athu' (palm leaf) prints are also something you see throughout this new collection. Each of my collections include a batik garment as well.
How did you learn/master the batik technique and why do you use it?
A batik garment is a work of art all on its own. When incorporating the batik technique, you're working on a blank canvas with endless opportunities. Batik is a technique that I appreciate the most because of the intricacy involved. The fact that everything is done manually and it's a step-by-step process makes it a very time consuming technique to use. Because I create only a selective number of items, each of the batik pieces in my collections are hand drawn by myself. This gives me the opportunity to create my own fabric and exercise a lot of creative control ensuring that every piece is stamped with my own identity.
Do you have your own production facility?
I work with a team of amazing women at the Women's Entrepreneur Association, a collective of women who stitch my clothes. Big fashion houses exploit their labour in order to get the most competitive pricing. But someone somewhere down the line is losing out. This is why it is important to me personally, because I think we as businesses and even as consumers have a responsibility to give back and ensure that those people that work for us or should I say work with us, have a better quality of life. It makes me immensely happy to work closely with such talented seamstresses and to see that it's a win-win situation for everybody.
What challenges do you face as a young designer?
I am very selective with the fabrics that I work with. I have found it challenging to source the right fabrics locally. Incorporating batik into my designs has given me a lot more control over prints.
What is your favourite part about being a designer?
Being able to see the designs coming to life. I love what I do. From gathering inspiration for collections to sketching them, sourcing fabrics and lace to complement the designs to when the first sample product is stitched, the entire process of creating a garment interests me. Being able to express my creativity visually and seeing my designs on my customers is a very fulfilling experience.
What role do you think social media plays in fashion today?
People's styles are heavily influenced by what they see other people wearing. With social media, trends make waves and reach everyone in real-time now. Soon after a fashion show, all pictures show up on social media and the popular designs go viral. This is the power that social media has. People also now prefer to shop via social media. They follow a link through to land on a fashion label's page and shop. I think it is vital in this age and day for brands to have a considerable presence on social media. I, myself as a new designer, had my first debut on social media and it picked up from there.
What plans do you have to grow your business?
We're currently selling online and at the Design Collective Store. My next step would be to open our very own boutique store which is a work in progress at the moment.