Sudu, an all white collection by Sharmila Ruberu
Words: Tina Edward Gunawardhana
Fashion designer Sharmila Ruberu certainly knows to pull a trick or two out of the fashion hat. This season, the designer who has been beavering away in her workshop has unveiled a new all white collection which marries purity with calmness.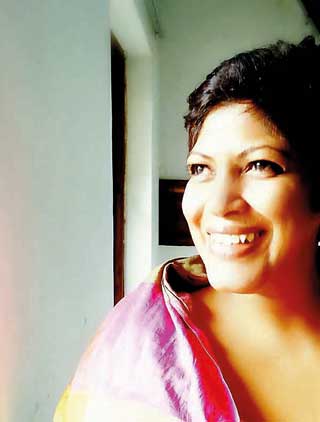 Wearing white has always been a statement. Ancient Romans draped it on to advertise their citizenship and loyalty. For the Chinese, it represents reincarnation. In Islam, white is the ultimate in purity.

Billed as the coolest colour for the tropics, white is a 'go to' hue for anyone. It is light and bright and can be jazzed up with bold and colourful accessories. Naysayers of course will demonise white as high maintenance but as long as you are careful with your drinks and eats white is a safe bet for any occasion.

In her latest collection titled Sudu, Sharmila has created silhouettes which complement both slim and fuller figures. The pants and crop tops are almost utilitarian in look and purpose while the full skirted dress nipped in at the waist with billowing sleeves lends a look of romance to the collection. The long kaftan with its asymmetrical hem gives an aura of laid back vacation vibes while the MC Hammer style pants gives the collection an ethnic vibe.

The drapes which resemble a hybrid of Greek and Roman clothing possibly harks back to Sharmila's brand name of Meraki which describes scenarios when a person has really put a part of themselves into something. This is clearly evident in all what Sharmila creates as she is a stickler for details and also a perfectionist.

Shunning professional models Sharmila used real men and women with relatable physiques to show that her designs can be worn by anyone and everyone.

Ever conscious of the need to minimise waste and fashion's impact on the environment Sharmila selected various cotton fabrics cast aside by factories that would otherwise have been destined for landfill. In creating her patterns she has striven wherever possible to create zero waste patterns to ensure minimum fabric wastage.

The collection for men and women has a gender fluid aspect to it which helps to make it on point in the fashion stakes. She has skilfully played with shapes which have lent a voluminous feel to some of the garments.

Speaking on why she launched a collection during Sri Lanka's bleak economic climate Sharmila says "People need to dress, they need to purchase new clothes and we have to survive. However hard it is, we have to ensure that in our own way we make the wheels of industry turn. This collection has helped to sustain many people's livelihoods. From the fabric supplier and the trimming seller to the production house which comprised of an all female establishment, the full circle has had some economic benefit."

"If we all threw up our hands in exasperation and took a back seat and did nothing we would just give up and lose everything we have worked so hard for" she adds.

Her positive outlook has spread to her trio of daughters and soon to be son-in-law and also her husband who are fully supportive of Sharmila's design career. They all come up with suggestions and ideas and keep pushing Sharmila to achieve her full potential.

A very talented designer, Sharmila, a regular at Colombo Fashion Week has never failed to wow the audience with her designs. Her most memorable collections at Colombo Fashion Week included the use of elaborate and innovative statement sleeves and pintucks and knife pleats which created some very dramatic silhouettes on the runway.

With Sudu, her mood has softened, her sense of daring has been reined in and she has given a collection that really is a one size fits all. Given the current mood in Sri Lanka, in fashion terms this may be Sharmila's trump card.
To continue reading this article please subscribe to Hi!! Magazine. Click below for subscription options.