France based style maven perfects the art of looking chic and décontracté with ease
Words: Tina Edward Gunawardhana
Community Manager, make-up aficionado and stylish fashionista Ishadi Amanda Kaluwadevage spices up her Instagram feed with fashion forward images of herself in the latest Parisian styles.
Who is your style inspiration?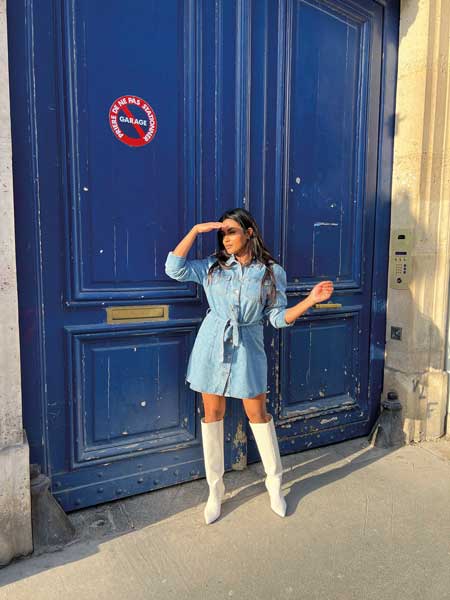 I am not inspired by a particular person because I like to change my style altogether.
I prefer going from a very casual style to a very strict style or from rock chick to a romantic look. Fashion and style magazines provide me with inspiration.

What does style mean to you?
I like to strike a balance between elegant and casual.

Describe your favourite outfit?
I'm obsessed with jeans ! It's timeless and it has to be a staple in every woman's wardrobe.

How often do you update your wardrobe?
I'm a spendthrift, so I make the choice to go shopping anytime a need arises. Be it for an event, for season changes, for the holidays… or whatever the occasion demands, any moment is good for shopping.

Do you select slow over fast fashion?
I like to be trendy so fast fashion mixed with a touch of slow fashion.

Who are your favourite designers?
I really like Korean, Japanese and Indian designers because I like the way they mix culture and tradition with fashion.

What is your style mantra?
I don't have a style mantra. My style applies according to my age and the different stages of my life.

What do you predict as next season's fashions?
As a result of the current climate we find ourselves in, our homes have become the new office, so we're now prioritizing looser fits for comfort and wearability.
To continue reading this article please subscribe to Hi!! Magazine. Click below for subscription options.