Executive coaching, mentoring and leadership programs are powerful tools for preparing people to enter the workforce, providing constructive insights into achieving success. They can help people to reach their potential, accomplish personal goals, and realise those important leadership skills required by corporations – skills such as creativity, innovation, and empathy.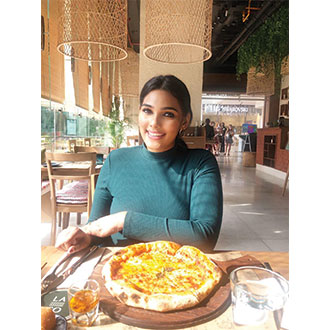 To address the subject of coaching, and the reasons why it is vital for the youth of today, we welcome entrepreneur, corporate trainer/lecturer and managing director of the Institute of Essential Studies Pvt Ltd, Bernadine Jayasinghe.
This widely respected young woman has already helped thousands of individuals flourish, overcome their fears and self-doubt and, most importantly, to become successful in all manners of roles across the globe.
Bernadine's flair and expertise were recognised last year when she was awarded 'Entrepreneur of the Year (Service Sector)' at the New Generations Awards.
To begin with, would you mind introducing yourself and explaining what exactly it is that you do?
Good afternoon and thank you for taking the time to chat with me. Well, I'd love to answer this question from two perspectives.
First, as a human being, I'm someone who wishes to live a simple yet meaningful life, empowering and encouraging the next generation to be happy and successful.
Secondly, as a professional, I play multiple roles as a soft skills trainer, a visiting lecturer at several leading state universities and private universities, and a professional coach, inspiring youth, women, entrepreneurs and other professionals. In addition, as a professional hobby, I am involved in the media: news reading, and presenting entrepreneurship and educational programmes.
As far as what I exactly do? Everything boils down to communication, leadership, and motivation. I love empowering people to grow, be happy, and do well in life while spreading positivity.
By the way, I must mention that something really exciting is coming soon, and I will definitely keep you updated!
What are your coaching methodologies, and why do you think they are so effective?
We follow international coaching methodologies and modify them to fit the condition and unique culture of the organisation and country. We analyse and identify their training needs, capabilities, skill gaps, areas to improve and goals, and then customise the training/coaching methodology and content accordingly.
We keep up to date and we invest a good deal of time in research. We aim to provide the best, always with a focus on transformation, since this is what drives a society towards development and success.
So, for example, if a young person in Sri Lanka has a good entrepreneurial idea, how can he/she be best supported in order to actualise and implement this idea?
Ideas are splendid, but implementation is the most important aspect. Many great ideas lose their spark and burn out due to a lack of application and planning, or simply through procrastination.
Entrepreneurs need to ask two simple questions: "Do I have the right strategy?" and "Can I execute this strategy?" If the answer to both these questions is yes, then it's all about execution. However, the most difficult part can be finding the answers to those questions.
Without a proper plan, being an entrepreneur can be harder than you would imagine. A young entrepreneur can boost his/her confidence by having a mentor, asking for industry expert advice, and undertaking quality market research. So believe in yourself, research, have a great mentor, and implement your entrepreneurial dream. Taking that first step might be tough but it's worth it! Start now!
Young women can face particular challenges in the workplace. Is this reflected in a greater need for young women to take up the services you offer?
I would say that is not the only cause. Women are also much more enthusiastic and eager to educate themselves than they used to be. They love to learn, grow, and transform. I think this is brilliant! I believe the reason why so many reach out to us is that they too want to develop themselves and fulfil their duty towards their country and the world.
Bias and inequalities have been decreasing in recent times, thanks to the many awareness campaigns and people being more educated, intelligent, and professional. However, gender inequality in organisations is a complex phenomenon that permeates organisational structures, processes and practices, and unconscious gender inequality remains within most workplaces and in society. As a consequence, many women come to us to be empowered and mentored. Whether it's language skills, presentation skills, grooming, business etiquette, confidence, self-discovery or overall transformation – whatever they need, we offer everything to help them achieve their goals.
Research has shown that one of the main reasons women do not rise through the leadership ranks is a lack of confidence. What is your view on this? Moreover, do you think that women need to make extra effort to 'stand out' from their male counterparts when looking for a management role?
Fear may be a frequent visitor but, if you want to succeed, you have to believe in yourself. To take control of your life, you must first control your mind. Develop a mindset of ownership and action within yourself. Be confident in your capabilities, and never let your gender limit your view of what you can accomplish. Grab the opportunities that come your way, transform fear into motivation, and conquer the world!
More generally, empowering women to reach the highest ranks requires a focus on three key areas: socialising leadership early in life, building confidence through role models and networking, and the provision of corporate development programmes that move more women forward. Organisations should provide constructive individual feedback that reinforces and builds confidence and high performance, and build effective empowering networks with the goal of generating opportunities for women's leadership and growth.
Be Authentic, Believe in yourself and Discover the leader in you!
I have heard you mention in another interview that people should move out of their comfort zone. What do you mean by that?
Intentionally leaving the comfort zone goes hand-in-hand with developing a growth mindset. While the fixed mindset keeps us trapped by fear of failure, the growth mindset expands possibilities, inspiring us to learn and take healthy risks that lead to positive outcomes. Getting out of your comfort zone from time to time creates just enough positive stress to ramp up your focus, creativity, pace, and drive, and it helps you respond to stress when life suddenly takes dangerously unexpected turns.
Now, let us move on to you, Bernadine. What do you like best about mentoring youth?
Ah, that's easy! The youth are the future. They are amazing, and they have numerous strengths and talents that will help build a better world. It's a great satisfaction to witness their growth and transformation.
Could you name someone from your past that has particularly inspired you personally?
That would be my mother. She is most certainly my past, present, and my forever. Her values, courage, and unconditional love can never be adequately expressed through words. She has taught me to respect others, to support and love people, and to help them grow. She is a selfless soul who treats any child as her own and that taught me a lot. I am who I am today because of her.
How do you unplug from work? What are your hobbies and leisure activities?
My work is my passion, so you could say that my work is my hobby. However, my professional hobbies are really media and motivational speaking. Otherwise, I love sports, listening to music, and I engage in abstract painting (I am no artist: I paint solely for relaxation purposes). I also love dancing and singing, but only when I am sure there is no one around. Ha-ha!
Once a News Anchor/TV presenter, you have always been in the limelight. Do you follow fashion trends, and do you have any beauty tips to share?
Yes, I do. Be yourself. Do what makes you most comfortable and happy. Always listen to your heart, although when you make decisions you also have to use your brain.
Confidence is the best attire. And don't forget to smile, as your smile is your most attractive piece of jewellery, while your vibe and aura will be the sweetest perfume you can wear.
Finally, Bernadine, you have worked all over the world, including the UK. Is there somewhere you would especially like to visit or maybe even settle down one day?
Ahem, well, I love travelling, so yes! I'd like to visit as many places and countries as possible. In particular, I'd love to visit Switzerland and Norway, and definitely Canada because my best friend and her family live there.
In saying that though, no matter where I travel, my heart will always be in Sri Lanka. This country is where I was born and where my home is.
For more information on Bernadine and her work:
The Institute of Essential Studies Pvt Ltd: https://www.facebook.com/siriusacademy
Bernadine Jayasinghe: https://www.instagram.com/bernadine_jayasinghe/?hl=el