Their story
The faces behind Cakes of Ceylon is a mother-daughter duo that makes it all possible! Arosha Karunaratne is truly the creative engine behind it. Her recipes are products of constant evolution and she is definitely getting better with every cake. Her baking journey started when she was a little girl, and now she considers herself not as a baker, but a cake artist. Her cakes are not just amalgamations of flour, eggs and sugar, but masterpieces in their own right. Her delectable baked goods have always been her language of love, enthralling both family and friends.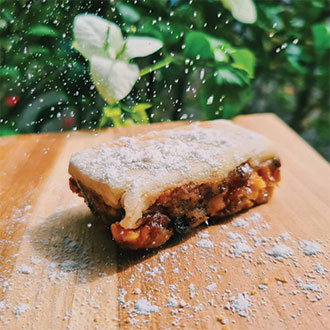 Yasu-e Karunaratne has been a lucky guinea pig from the time she was born to try out her mother's delicious experiments. She was fortunate to have been surrounded by great food always and she also picked up a passion for not just eating but baking and cooking too! She now uses her mother's recipes to bake most of the cake bases and make the cake fillings for Cakes of Ceylon. She feels her decoration skills are still a work in progress and so in the spirit of true teamwork her mother does all the cake decorations. They both also get a great deal of help from their family members and friends such as Tami-e Karunaratne, Kosala Karunaratne, Lesha Senanayake and Taveesh Edussuriya. It has always been a great team effort and great bonding experience.
Cakes of Ceylon is a great creative outlet as well. They always try to get creative with their unique style of marketing while promoting the true Sri Lankanness. They love interacting with their followers and getting their opinions about various cake facts.
Here are some of the interesting questions we asked Yasu-e about her business.

When did you start the venture?
We started in December 2020.

What made you start Cakes of Ceylon?
Though my mother always wanted to do something with baking we never got around to executing it. But, we started quite abruptly. There was no pre-plan or any epiphany as such. During Christmas my mother usually bakes love cake and Christmas cake for her loved ones. But last year, convinced by popular demand, she displayed some of her love cake packs in the clothes shop that she owns.
No one in the family really knew what she was up to. We were just in the background helping with the baking and trying out her cakes. One night her shop had really good sales but she was really upset. I remember asking her what was wrong, and she said no one is buying her love cake. She really looked a bit heart broken. And it honestly broke my heart too.
But, she never advertised that she was going to sell her cakes, even the family did not know that she was selling the cake. I got a bit activated, threw all my inhibitions out of the window and I started advertising her cakes on my Whatsapp statuses. I was really going out of my comfort zone to do this. But, I knew my mother's cake was amazing and I just could not see her upset like that.
To my surprise, many friends also started promoting it for us. We got so much support, which we are so grateful for and it was unbelievable. We sold all our love cake through social media almost overnight. Once people started trying out our love cake, they started re-ordering. We started getting busy and we introduced the jaggery cake too in December. It was so exciting and such a learning process for both of us! Since then, we have been experimenting with various flavours and products that suit our Lankan palette.

How did you come up with the idea, the theme and the name?
I just randomly came up with the name; I felt it had a nice ring to it. The theme we strive to embody is our name itself, "Cakes of Ceylon". We bake cakes that our synonymous with Sri Lankan tea time culture, ranging from our beloved love cake to our sweet and tangy pineapple upside down cake. Our cakes are Sri Lankan comfort food.
We always want to add new products, but we try our best to match the products with our theme, which is sometimes challenging. My mother has a killer red velvet cupcake recipe. But, I was reluctant to introduce it, because the cupcake tampers with our theme. We asked Taveesh to come up with some creative names to colonize such western goodies into the lands of Lanka. He took up that challenge and named our red velvet cupcake "Rathu Sudda". He has done this to our other cupcake flavours as well, namely Minchi Madness, Kopi Kola (we use Sri Lankan coffee for this cupcake) and Kurundu Crazy.

What makes Cakes of Ceylon special and unique?
We have various cake products, such as our classic Cakes of Ceylon love cake, jaggery cake, rustic ribbon cake and the pineapple upside down cake. These classics are perfect to pair with your evening tea. We also have our fusion cupcakes and our luxury range. Our luxury range cakes have a pollowesque chiffon cake, which are filled and decorated with premium sweet cream and tangy seasonal fruits. We also have the Ceylon savoury platter, which has an array of perfect tea time treats. We do everything from scratch, which is time consuming but makes a world of difference. We grind our own spices for our cakes, we use thick fresh coconut milk and we roast the cashew nuts ourselves without buying the pre-roasted packets. It is a labour of love, but that is what makes Sri Lankan food so great!

How has COVID-19 impacted your business?
The pandemic does make it more difficult to source ingredients and packaging. Further, logistics are hard to coordinate, but PickMe Flash has come to our rescue. On the flipside, however the pandemic has also given my mother and I more time to focus on Cakes of Ceylon. We both work full time elsewhere, but the pandemic has reduced the work load from our full time jobs. This gives us time to play with ingredients and connect more with our followers on social media.
What challenges do you face daily with the business?
The main challenge is our time management. It does get a bit difficult for the both of us to balance work and Cakes of Ceylon. But, we work as a team and try and make sure we do not over exhaust ourselves. It is a learning process and a great experience for both of us. Our family and friends also help us immensely, we cannot do anything without their support.

What future plans do you have?
We have no definite future plans as of yet. We want to get on UberEats and PickMe, but that needs a lot of time and planning. Till then we want everyone to taste our treats! We love where we are at now. It's small and we are enjoying the support we get from family and our customers.
But we have hit small milestones, through the help of our customers and family. Let's see where this cake journey takes us!

'Cakes of Ceylon' primarily operates through their social media pages.
You can contact them on:
Instagram: https://instagram.com/cakesofceylon?utm_medium=copy_link
Facebook: https://www.facebook.com/cakesofceylon/
Mobile: +94770060787
#CakesOfCeylon #SriLanka #LocalBakes #Cakes #SriLankanTaste #FoodSL