'New Media Art' – what is that, exactly? It's a cutting-edge artistic discipline that encompasses virtual art, computer graphics, computer animation, digital art, interactive art, sound art, internet art, video games, cyborg art, 3D printing, and robots: in other words, artworks created with new media technologies. In truth, new media art is very different from traditional visual arts and necessitates more complex curation and preservation techniques than most other mediums.
To explain a little more about video installations, digital art and hybrid drawings and paintings, Hi!! sits down to chat with Kitty Ritig, a contemporary illustrator and new media artist, and lecturer at the AMDT School of Creativity in Colombo.
Kitty has achieved a first for Sri Lankan artists in creating a fascinating augmented piece of reality in her novella 'Bedtime Stories for Kids over 30'. This superimposed computer-generated image demonstrates a composite view of Kitty's perspective of the real world. She was also chosen as one of only ten South East Asian Artists for 'Artist Canvas' by Project Fuel in 2021, and last month she held her first solo exhibition, 'Casualties of Love', at the Kalayatra festival.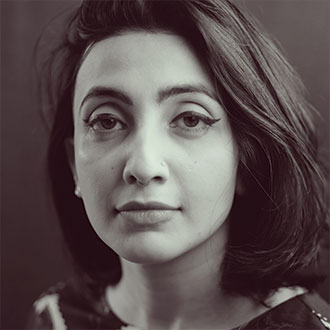 Good afternoon, Kitty, can we start with your own definition of 'New Media Art' and why do you think there seems to be so much misunderstanding about the term?
New media art is simply art created using new media technologies. Yet it's difficult to have a stock-still definition for a rapidly changing contemporary form of art. A difficulty in categorising leads to a difficulty in understanding. As it's still evolving and spreading, misunderstandings are to be expected.
So, what do you find so fascinating about it?
I find all types of art forms fascinating, despite the ancientry or novelty of them. But as my practice is based on values such as consistency, authenticity and creative practicality – new media art forms work best for me at the moment.
In your opinion, are 'new media art' and 'contemporary art' two separate concepts?
No, new media art is a result of the postmodernist digital revolution which falls under the umbrella term contemporary art.
The majority of installation artworks require the use of new media technologies to be exhibited. That being the case, is it possible for performance or conceptual art to be collectable?
Absolutely, but the nature of collecting changes as the nature of art form changes. For example, it can be video footage or augmented reality documentation.
Do you think this kind of art should be available exclusively online or should it be displayed at museums and art institutions?
Both and more; it should be archived and displayed online and at institutions that stand for art, but more importantly on platforms that enable the exposure of this art from daily human life.
As a new media artist yourself, what are your thoughts on digital presentations, like fairs and exhibitions, for artists?
The local fine art industry being brutally political, I find it extremely difficult to establish the right kind of impact and existence there. I've grown into the idea of being humble and always searching for platforms that will welcome me, to exhibit or execute my art practice. This perspective allows me to continue, evolve and stay hungry.
So, do you anticipate more festivals in Sri Lanka becoming open to the idea of displaying this form of art?
Yes, desperately.
How important is virtuality and the digital world in the creation of your own work?
Not in the process of creation, as the main focus there is my purpose or concept for that particular collection or project. But as a mode of sharing, the digital world has been my saviour time and time again, and in that it's paramount.
Recent remarkable advancements in technology should mean that new media art has a promising future in Sri Lanka. Do you see young artists enthusiastic about adopting this genre?
Definitely, and it's brilliant. All the digital and internet art that has been shared and embraced online says a lot about the sensibility of adapting to new values and perspectives as well as to new media.
Turning to you now: in your illustrations, we can see that you explore a dream world, almost surrealistic… where does the inspiration to create this world come from?
The pain that we all carry within us, how it defines us as humans. Life in general. I'm emphasising the fact of being human, compassion and acceptance.
How do new technologies influence your artistic practice?
They keep my childlike exploration alive, they allow my art practices to be affordable. Most importantly, they have given me my audience, one of the lifelines I totally depend on.
What are some of the tools you use to create your distinct style of artwork?
Anything and everything I can get and find useful at the moment of creating. I find maintaining a sketchbook to be the main tool in my practice.
Do you keep up with the latest digital trends and technologies?
I always update myself with the latest information, yet I'm not in a rush to use them. I would use them if and when they are supporting and appropriate for my project, not because they are just trendy.
A little bird told me that your passion for arts and illustrations came from your grandmother. Can you tell our readers a little more about her and why she was such an inspiration?
She raised me and saved me. She didn't teach me to cook but to paint. She is the only person from my childhood who accepted me for the artist I was, making me the artist I am today.
Is there one particular book on the arts that you would recommend to other new media artists?
Steven Pressfield's 'The War of Art', which highlights the forms of resistance faced by artists, entrepreneurs, athletes and others who are trying to break through creative barriers. I'd recommend it to all artists, new media or not.
What projects or exhibitions are you most looking forward to in the near future?
I'm currently engaged in a social media-based interactive art project. I'm looking forward to seeing what paths it will follow.
Kitty, I hear you are a lover of cats. Have you ever painted them?
If you keep looking at the creatures I paint, you will start to see they are mainly influenced by cats of course.
Do you have anything to add?
I'd like to mention that I'm open to projects and collaborations. My Kitty Ritig private collection is open to viewing upon request. Also, Hi!! platform has always been amazingly supportive in my journey and I'm so grateful.
It was so nice chatting with you. Thank you.
To see more of Kitty's work, visit:
https://www.instagram.com/kittyritig/
https://www.facebook.com/kittyritigart