"Lankan Plug" kicks off with a big bang as we feature a young and well-nurtured voice in this month's edition. This talent is so inspiring that I too was star-struck while listening to his incredible responses to my questions! Here's none other than the crowd's favourite- Adish Yomal!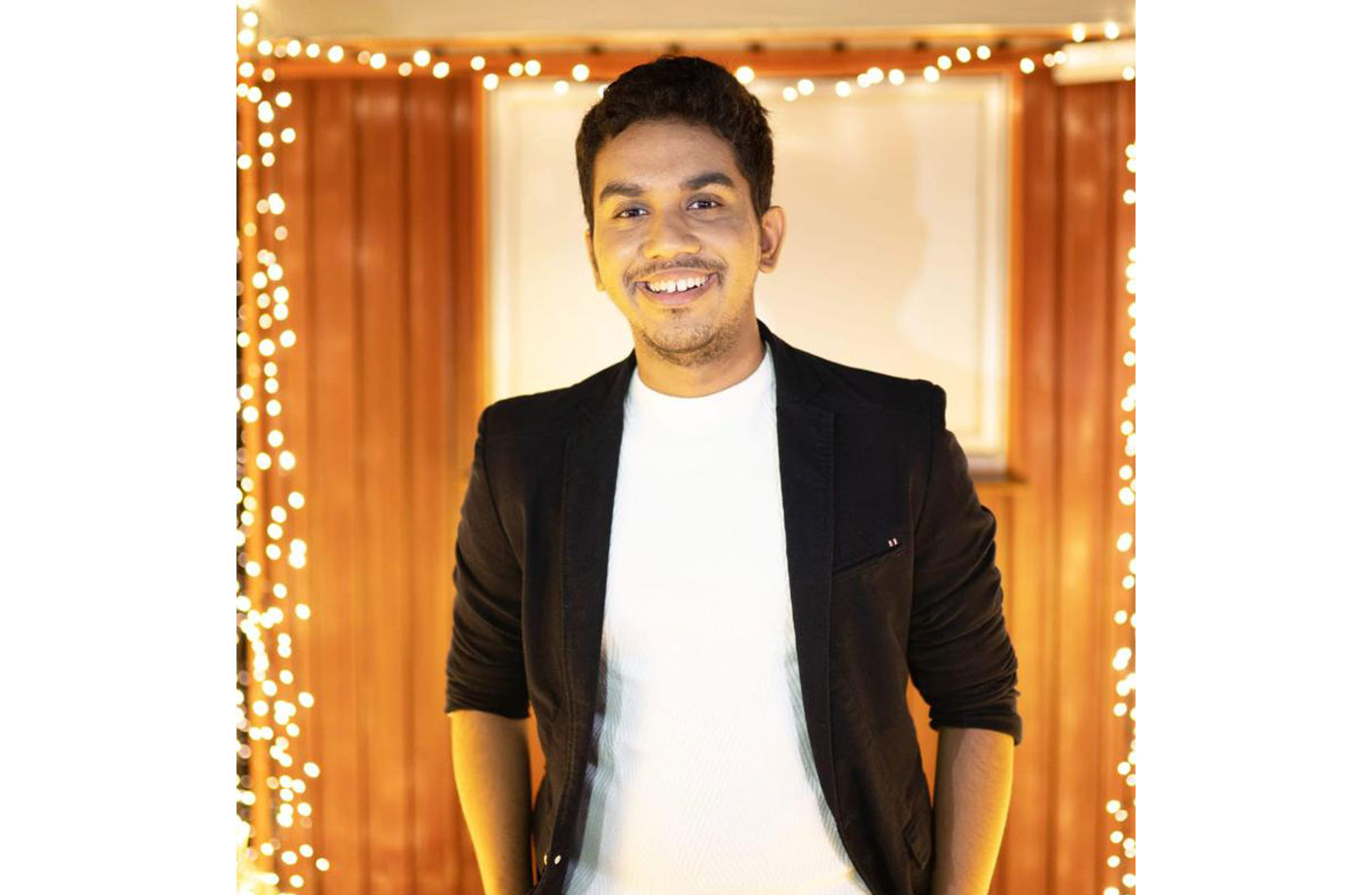 At the tender age of 4, Adish made his first foray into the Lankan music industry when he appeared on the popular Sri Lankan reality show "Derana Little Star," which was known as "Derana Star in a Minute" back then. He has worked tirelessly ever since to realize his lifelong ambition of becoming a fantastic musician. We had the distinct honour of speaking with this inspiring soul and hearing his story;
How did you first enter the Sri Lankan Music Industry as an artiste?
After submitting my application to "Derana Little Star," I was assigned to the Age 4-6 Category to compete against my fellow artists. I made it to the Grand Finale after numerous performances and eliminations, and later that night, after my last performance, I was able to win 'The Most Popular Star' in my age category as well as the Runner-Up in terms of judges' votes. We even received countless invitations to perform at concerts and to attend 2-3 foreign tours after the competition, which was such a privilege!
How has your journey been so far?
Just a reminder that I began singing when I was four years old; I was only a few years away from starting school. I decided to take a brief break from music to concentrate on my studies and excel academically. Along with school, I enrolled in Trinity Classical Exams as well as Rock & Pop Vocal Exams with Female Pop Sensation, Ashanthi de Alwis to further improve my vocals. I also recorded two original songs that have yet to be released because the video production is still ongoing.
Years passed and I was 14; I began my work as a musician once again by first competing in two Chokolaate Centerstage competitions. I went on to form my own band, "FEEL", which won first place in the Band Category at the competition in 2016! I was also appointed as the Music Captain at Lyceum International School- Nugegoda for the years 2018 & 2019, as well as the Band Leader for my school band, The Beat Band of Lyceum International School – Nugegoda. We even had the opportunity of competing in VIVACE, the island's largest inter-school band competition, and won three years in a row (2017-2019).
I was also recognized as the Island First from Grades 3-8 in my Trinity Rock & Pop Vocal Exams, and today, I'm an honorary part of one of the most well-known and prestigious bands in the country- DOCTOR!
Joining DOCTOR was a complete coincidence; the band's leader, Lanthra, was looking for a new vocalist after Krishan Perera's departure, and this was when one of my Instagram covers went viral! I posted a cover of Bruno Mars' "Versace on the Floor" on Instagram, and the band was able to see it. Following that, they contacted me and requested some songs for me to sing for the audition process which they were extremely impressed with, resulting in my selection as a permanent member of DOCTOR! I thank the power of technology for this as well- God Bless it!
Explain the genre of music you usually focus on and what inspires you to compose such music.
I don't have a specific genre in mind, but I do have a genre in mind that I don't want to focus on. I'm not the type of person who can be creative when it comes to classical or oriental music; I just know I won't be able to do much in that genre, despite having completed my Classical Music exams. It's just not my cup of tea. Pop, Rock, and, on occasion, Metal are my favourite genres because I can be very creative when composing melodies and enjoy singing songs in these styles of music. I'm a big fan of Pop Funk, and musicians like Stevie Wonder, Ed Sheeran, Charlie Puth, and Adam Levine have influenced me to do well in these styles.
You've done many renditions of songs along with mash-up/medleys which have been released on YouTube. How has the response been?
To be honest, I never expected such a positive response to my covers! These projects were done for fun, and I never considered myself to be a social media person, but my song renditions were quite engaging with a lot of people, and their compliments always encouraged me to do better. My audience's unending support, especially during the pandemic, is what kept me going; I was encouraged to cover a lot of song requests and even compose some original music whenever I found the time. The response has been far greater than I had anticipated, and it has given me a significant boost in my career.
Did you face any challenges/hardships while being on the rise? If so, how did you overcome them?
Yes, we faced many difficulties and challenges, particularly when it came to producing covers on a large scale. There was one instance where we finished the video production but were unable to obtain permission from the original artist to release the song. This was entirely our fault because it is always our responsibility to ask the musician if we can use his or her work. As a result, we suffered financially because all of our expenses went down the drain and we were unable to recover any of them. Even during the pandemic, it was difficult to complete large-scale projects or even record videos due to a lack of resources. For example, we were preparing for another video shoot when the videographer called and said he didn't have a camera to film with. What's the point of going ahead with a video production if there's no camera present? To be honest, it was a waste of time and energy because we meticulously planned everything—even the choreographer was ready to come. However, with the help of my parents and friends who have always been there for me, we were able to overcome these chaotic issues.
Can we expect any new music from Adish?
I haven't worked on any new originals yet because I've been focusing on covers, but I do have some melodies that I'd like to incorporate into some work, and hopefully, you can expect a lot of originals from me in the coming months! It's just that I only graduated from school last year after finishing my A levels, so I'll be actively engaging in my music work only now.
Any thoughts/views or suggestions regarding the Sri Lankan Music Industry?
If I may say so, the Sri Lankan music industry is far more talented than we realize, and it has enormous potential. The main issue is that it hasn't received enough recognition in comparison to other countries, which doesn't mean we're any less talented; we're just as talented as the other countries. We just don't have a proper platform yet.
Anyone you'd like to thank?
I'd like to take this opportunity to thank many people, starting with my parents, who have always believed in me and given me their full support in pursuing my dreams of becoming an artiste. I'd like to thank all of my friends who have been there for me throughout this journey. Thank you to all of my teachers, especially Sir Christopher, Mr Ian Ranasinghe, Miss. Ashanthi de Alwis, Mrs Antoinette, Mrs Drucille, Sir Keerthi Pasquel, and Ruwanthi Bernadette, who have guided me in music and vocal training.
This is the mandatory 'Lankan Plug' ending: Any words of wisdom to future artists?
This is not necessarily advice, but rather a friendly reminder: Never give up and always pursue your dreams. What I primarily want young musicians to understand is that if you ask anyone for their opinion on their singing, it is only the guidance and advice that matters, not the approval. Nobody has to agree that you're a good singer; only constructive criticism matters in whatever field you work in. No matter how negative someone's opinion is, never give up on your dreams and passion.
For more amazing music, go follow Adish on his socials;
Instagram: @adish.yomal
TikTok: @adish.yomal
#LankanPlug #AdishYomal #Musician #Singer #NewArtist #Music #DoctorBand #CoverArtist #Vocalist #Passion #Dream