Art has a distinctive place in this world, admired by many for the various depictions that the paints would signify and eventually immortalize, always ensuring to outlive the artist. In the case of Jayantha Premachandra (JP), whose artistic talents shone a beacon at our little pearl, it's safe to say that he'd trekked a wondrous journey like no other.
As such, the Jayantha Premachandra Foundation (JPF) was founded by Nilanka Premachandra, daughter of the renowned artist, three decades following JP's unfortunate demise. Nilanka envisions the revival of his legacy in the name of social and cultural causes, with their emergence into advocacy. That too, by trading the typical timid first step for a bold giant leap.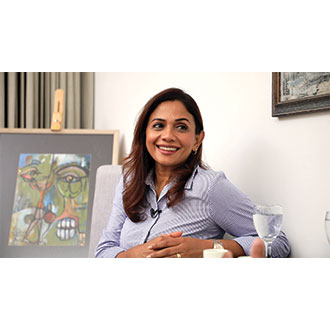 But, of course, I'm getting ahead of myself. The excerpts of the interview with Nilanka are as follows;
Q. Tell us about Jayantha Premachandra and his incredible journey.
My father's artistic career began in his late teens. He graduated at the University of Visual and Performing Arts Colombo, originally known as the Heywood Institute of Art. He then earned a special degree from Moscow's Art and Industry Institute.
His work mostly consisted of paintings, creative works as an author, newspaper columnist, and Art Teacher. His artistic role came about at an early age, first as a child artist and subsequently as a professional. At the age of nineteen, he won his first professional prize. One of his earliest exhibitions, in 1958, was inaugurated by the then-Prime Minister S.W.R.D Bandaranayake, and another, in 1982 was attended by President Premadasa who was the chief guest.
Thilaka Mama's piece, 'Lama kala Tharu – Chithraye Aluth Hedayak,' published in the Lankadeepa newspaper on October 23, 1955, provides a historical perspective on JP's early life and debut into painting. The story goes on to say that JP considered Pablo Picasso to be one of his art industry idols. The piece finishes with the hope that JP would become as competent and accomplished as Pablo Picasso in his field.
JP traveled widely as an artist, holding the majority of his exhibitions overseas. Art brought him across the former Soviet Union, India, much of Europe and Scandinavia, as well as the Middle East. He traveled as a Sri Lankan artist to over a dozen nations in the 1960s, 1970s, and 1980s. He didn't care about culture, religion, skin color or ethnicity. In that sense, he was a man really ahead of his time.
In the 1960s, JP was the first Sri Lankan to exhibit in Bagdad, Iraq, and he was also acknowledged as a professional artist by French authorities in the 80s
In 1984, my father moved to Paris, France, with my mother and myself, where he continued to work on his paintings and establish himself as a known artist. In my perspective, he strongly connected with many individuals from all over the world, representing many cultures, social, political, and, of course, creative backgrounds.
His adventure in the world of art was fantastic for me as a youngster, and I'm retracing his footsteps again to uncover his legacy for myself, 33 years after his unfortunate demise in France in 1988.
Q. Jayantha Premachandra graced exhibitions worldwide, and he has held over 35 solo exhibitions himself. What did he aim to express with his art?
My father's art, particularly his paintings, reflects his life experiences from his childhood in Sri Lanka to his student life in the Soviet Union. Many illustrations depict effects of socialism as well as global social and political events during that era.
His style, in the latter part of his life, changed to more liberal forms depicting freedom, love and compassion, acceptance and moving towards peace. JP's philosophy of art expression is very emotional, melodic, romantic, and spiritual, as stated in an article published by E.M.Abeysekera in the exhibition 'Chitra Tharanganee' (dated 25th April, 1958).
In addition to Sri Lanka, he had exhibitions in the United Kingdom, Russia, Norway, Sweden, Denmark, Germany, Czech Republic, Poland, Italy, and France, which were attended by collectors, scholars, and common art enthusiasts.
At his exhibition held at the tea center in London, in the 60s, the Soviet Cultural Ministry purchased one of his paintings known as 'Durga Marga,' a.k.a. 'Barakaraththaya Kandak Adi,' for RUB200 (LKR1000)), to be displayed at the Eastern Cultural Museum in Moscow.
Q. Jayantha Premachandra dabbled in and mastered various art techniques to produce stunning artworks. Which were perceived as some of the more iconic pieces and why?
JP utilized art to convey what he had learned, experienced, and felt using a variety of materials such as paper, canvas, mosaic, cement, fabric, and so on. JP used his artistic skill to communicate Sri Lankan culture, livelihood, and way of life to Europe and Asia via paintings and batiks.
JP used different materials and forms of art to depict his creations. Paper, Canvas, Mosaic, cement, fabric, batik his material list was endless.
JP's unique style progressed with time as he experimented with new art concepts and techniques and his art also reflected his political and personal ideologies. His exposure to many different cultures, ideologies and environments is depicted in his wide spectrum of styles and subjects from traditional to modern abstract art forms.
His picture of Yuri Gagarin was one of his most famous works from the 1960s. This was a perfect portrait that was gifted to Yuri Gagarin when he visited Sri Lanka. Another noteworthy piece of art is the mural at Peoples Bank; Painted using special pigments on cement blocks depicts his latter style, modern abstract form, this painting takes its pride with other prominent artists in that era, adoring the 11th floor. Towards the end of my father's life, his paintings were primarily modern and abstract.
Q. Jayantha Premachandra's artistic talent was not limited to canvases. What other mediums did he work with?
He utilized several pre-digital mediums such as paper, wall paper, oil, acrylic, fabric, batiks, and murals. His ability to paint on cement, as displayed in his mural on the 11th floor of the Peoples' Bank Building, is an example of his talent, since the colors are still vibrant and have withstood the test of time.
Another method he used was Batik, in which he sketched on cloth and then applied the batik process to it. He also painted on the finished batik wall hangings.
He used the Mosaic technique to express himself too.
Q. Tell us about the Jayantha Premachandra Foundation and how it aims to revive the legend of Jayantha Premachandra.
JPF was established as a charity foundation. One of its primary objectives is to pay tribute and revive JP's art legacy whilst servings as a charity foundation to help various social causes and concerns. We intend to carry out fundraisers, awareness events for identified causes. We will strive to promote art, encourage young and upcoming artists in Sri Lanka and also wish to give recognition and support to artists from my father's era, whose talent may not be recognized or unknown due to lack of support or opportunities to bring out their works.
Q. The very first project paves the way for any foundation, and is generally close to heart. What can you disclose about the project that is in collaboration with the Stroke Support Organization for Sri Lankans (SSOSL)?
My father died due to a stroke and brain hemorrhage in April 1988, while he was preparing for an exhibition which was planned by the delegation of UNESCO in Paris for May 1988. This exhibition was presented posthumously on December 16 th of 1991, by my mother and myself. But it was never the same as it would have been if my father had been present, despite the positive response and recognition the event received.
Today, 33 years later, my mother is recovering from a stroke for which she was treated at the National Hospital. During this time I learnt about the SSOSL and witnessed firsthand remarkable patient care they provide at the National Hospital, despite challenges. I discovered areas of improvement necessary at the National Hospital's wards catering to stroke patients. All these, I believe, led to our first initiative to help the SSOSL better serve its patients and provide facilities for its employees.
Strokes are a common cause of temporary and permanent paralysis and in certain cases death. Stroke patients and their families experience a radical shift of their lifestyles seemingly overnight into a nightmare. It occurred to us as well. I was only 15 when my father passed away. Today, I am grateful to have found the opportunity to contribute to stroke victims through JPF, one of the many humanitarian issues we want to pursue.
I think everybody can help in their own little way because at the end of the day, the employees at the National Hospital render a great service to the general public.
Q. How does the Foundation aim to support and encourage local artists?
Sri Lanka has so many talented artists in various disciplines. In most cases the talent is not recognized, nor nourished or supported, Artists face financial constraints and access to showcase art. We hope to find donors and supporters and help talented artists to be recognized and encourage them to develop in their forms of art. We intend to use our social media platform as well for this purpose.
Q. With many future projects in the works, can you give us a glimpse of those that are yet to come?
As previously stated, JPF is about reviving JP's paintings after 30+ years of silence. It was a difficult task to travel back a generation of a timeline to the past, where I had to prioritize my academics as a teenager to begin with. After that, in my mid-twenties, I relocated to Sri Lanka and settled down to raise my two children. It wasn't until late 2020 that I understood the injustice I would have done to my father's art if I hadn't taken on the role of reviewing his work, because much of it would have been lost to history.
We are organizing a fundraiser to collect funds to improve the neurological services at the Colombo General Hospital. Plans are currently underway for a charity event to take place early 2022, in partnership with the French Embassy. A few of JP's paintings will be auctioned to raise funds to support the SSOSL and the Neurological Services at the National Hospital.
A coffee table book containing the autobiography on the life and works of JP is also to be published soon.
Further, JPF will hold periodic exhibitions exhibiting a restricted number of JP's greatest pieces. I'm not sure how many of these will be offered for auction or sale at this time, but we will sell a limited number selectively.
JP's Next Generation: I was just five years old when I had my first exhibition at that time TAJ SAMUDRA, Colombo. But unfortunately I did not pursue a career in art, as a profession. I almost forgot to add my mother, who has done batiks on some of my father's work. She is the one who applied the batik technique on my father's cloth drawings. My two daughters seem to have inherited the talent and I hope they will continue to pursue painting as a hobby or a profession.
Artists are free thinkers, and there are no boundaries when it comes to creativity.
Q. How can the public support the Jayantha Premachandra Foundation?
We would very much appreciate any public support for the JPF foundation, be it in participation, voluntary services, donations and contributions on social and charity causes carried out by the foundation. We invite the public to follow us on social media platforms. We also would welcome information on contemporary artists and their works from the era of JP.