The right amount of balance between "sweet" and "just right" is not always easy to find. It takes many, many experiments to win over that ideal texture and that perfect combination, especially when baking cakes.
It was an absolute thrill for me to come across a home baker who distinctly makes and finishes her cakes in scrumptious glory! A mother of two, Gayathri Prematillake is the Iron Lady of her business "Saanyaa", who started her journey by bringing a motherly touch to her children's birthday cakes. She went on to realize that she enjoys the art of cake decorating, and eventually, this became her full-time profession.
Here's what she sent me:
Chocolate Cake frosted with Mint Icing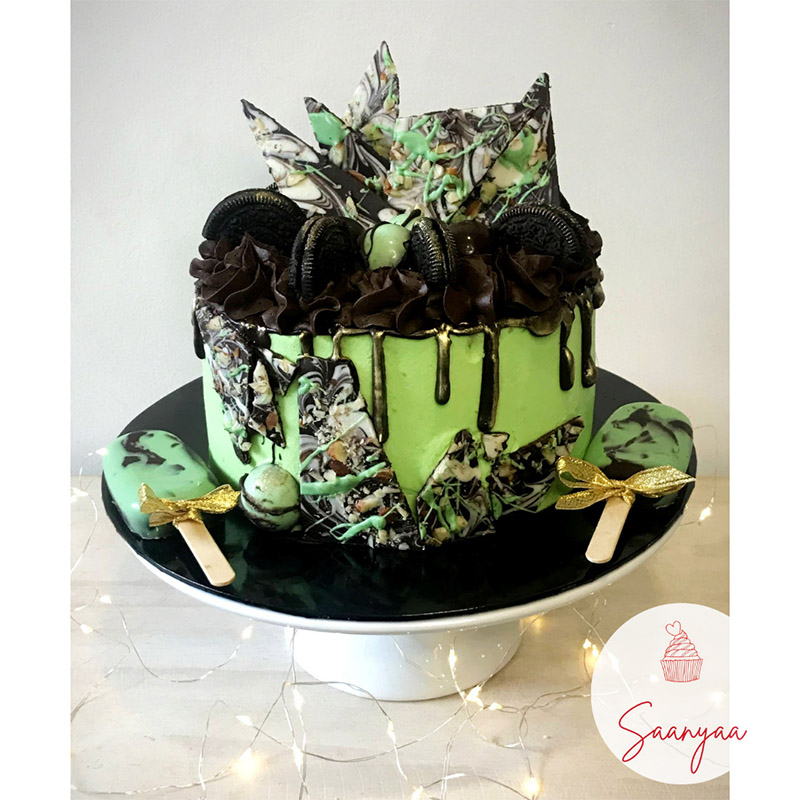 If you are a fan of Mint Chocolate Ice-cream, then this cake is surely for you! I'm not usually a massive chocoholic, but this cake was sensational. I have never enjoyed chocolate in this manner; layers of cookies, almonds, and chocolate cream ganache kept creeping in with every bite I took. Such a mesmerizing experience!
Mint Chocolate Cakesicles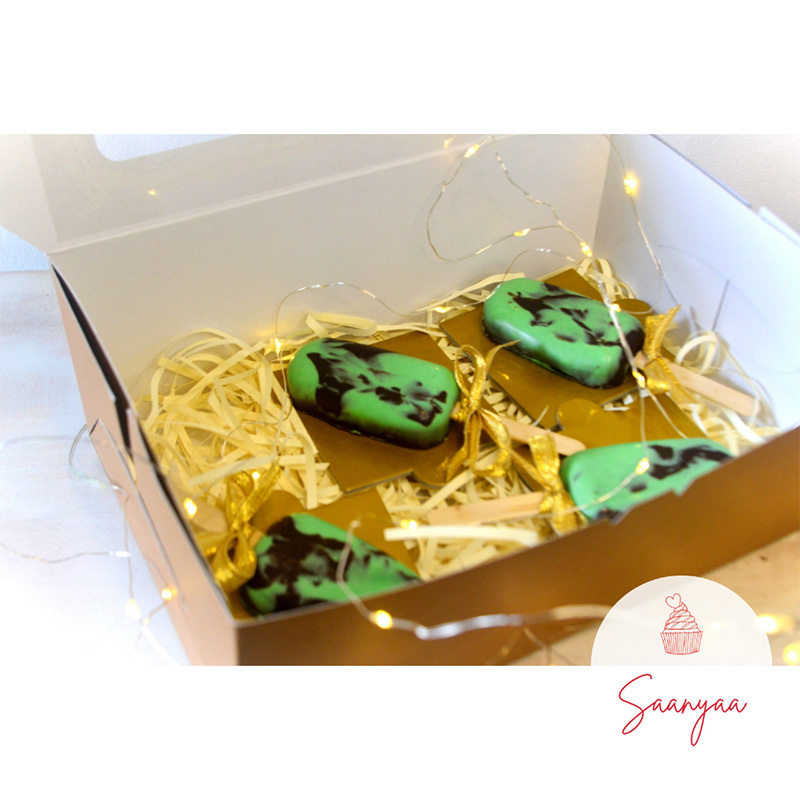 This was the first time I had ever tried cakesicles and boy, were they tasty! The Mint Chocolate combination struck my sweet spot so well, that I ended up having two of them! A little similar to the frosting that was done to the chocolate cake, the cakesicles were no different from typically popsicles at all!
We at Hi!! were able to have a little chat with the mastermind of these tasteful creations, Gayathri Prematillake, who provided us with a sound insight as to how she started "Saanyaa";
How did you get the inspiration for "Saanyaa"?
My mother was my main form of inspiration. At a young age, I was always exposed to baking and other forms of crafts such as needlework, etc. My mother taught me how to bake my first cake and that became the foundation of my baking career.
How did you come up with the name "Saanyaa"?
It is a combination of names of my family members.
What are your best sellers?
Our most popular product would be our pre-designed cakes. We design cakes for Christmas, New Year's, and even Valentine's. Seemingly, our customers like our designs very much. It's very convenient for them as we can make any necessary changes according to their requirements. This involves changes in flavor, the servings, as well as any slight modifications required. We also release pre-designed cupcakes as they're one of our best sellers.
What other products and services do you offer?
We do cakesicles and cake structures, and we've done quite a few sweet tables for weddings too. These sweet tables include a variety of delectable desserts such as doughnuts, cookies, éclairs, etc. Our Sinhala & Tamil New Year Collection includes all your favourite "kavili" (sweets) and, of course, a pre-designed cake that you can enjoy with your family.
Another rather interesting fact is that we at "Saanyaa" provide a rather diverse collection that stretches to the lengths of beauty and fashion; We own a salon named "Salon Saanyaa" which is situated in Nugegoda and we'll soon be launching the Instagram page for our online boutique as well. This will showcase a wide variety of products ranging from handmade tableware to uniquely designed sarees that can only be found at "Saanyaa".
What is the mission and vision of "Saanyaa"?
My mission is essentially to bring happiness and satisfaction to the customers who have placed their trust in us. Their trust is not only embedded visually, but is also embedded in our baking, while allowing me to fulfill my role as a mother to my children.
My vision is to build "Saanyaa" to be a business that the public associates with good quality products, with the phrase "made with love", as I truly pour a big ounce of love into every cake that I make and bake.
In 5 years, where do you see yourself?
I see all 3 of my ventures successfully launched and grown into businesses that have great reputations while continuing to satisfy our customer requests.
Last but not least, do you have any advice to upcoming entrepreneurs in the industry?
My advice is to learn new techniques and keep yourself updated with the changing trends in the industry. Stay true to yourself and remember your roots. Satisfy yourself with your craft and not through monetary gain.