BY THASMINA SOOKOOR
The Colombo Brunch Club is an Arts and Entertainment group that was formed to ignite a day-time brunch party culture in Sri Lanka, that is currently non existent. The Colombo Brunch Club will be looking to put together a collection of four to five brunch events annually, as a bi-monthly recurring event. The main concept is to create a day time atmosphere with good food and entertainment that guests can enjoy and experience in the city; something new and different! The first episode will feature a line up of eight of the islands most loved DJ's along with a live Saxophone and Congo player. The hosting venue for the Brunch will be the popular speakeasy bar, Ask For Fern, and the entertainment will be hosted at the popular nightclub, The Chiller Room. Date: Sunday, 30th January 2022. Time: 11.30am onwards.
Speaking to us, Founder and Director of the Colombo Brunch Club, Dimitry Fernando stated that, 'Sri Lanka needs to evolve and move forward in terms of hospitality and events offered and by launching the Colombo Brunch Club, it's a step towards bringing something fresh and new to our beautiful island.' Dimitry is also Founder and Managing Director of Ask for Fern, The Chiller Room and the newly launched Men's Skincare range, Christopher Fern.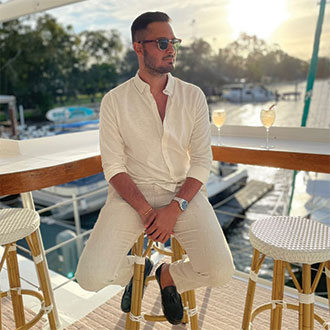 The Brunch menu for Episode One, has been curated by culinarian Surith Adhihetty, an alumnus of Royal College, Colombo. Armed with a Bachelor of Arts in Hospitality Management from Sydney, he is also a graduate of a cutting-edge culinary school in Melbourne. Surith has spent extensive time working at a French Bistro, a modern Japanese restaurant and a Mexican restaurant; all based in Melbourne, Australia, and also as a Junior Sous Chef, working alongside Australian Master-Chef, George Calombaris.
The decadently delicious selection of gourmet brunch dishes have been created by Surith blending a variety of cuisines and flavors, all of which he has immersed and experienced in his culinary journey. Surith will takeover the kitchen at Ask for Fern, on the 30th and whip some of his signature brunch dishes, which includes, (1) Smashed Avocado with Fried Halloumi, Toasted Pumpkin Seeds, Lotus-Root Chips, Basil Oil and Caramelized Onions, (2) Savory Roti, Slow Cooked Lamb, Poached Eggs, Hollandaise Sauce and Apple Slaw, (3) Mushroom Ragout, Kale, Poached Eggs, Gremolata and Almond Dhaka, (4) Sweet Waffle, Butter Scotch, Caramelized Banana, Salted Almonds, Crispy Bacon and Popcorn Crumb, (5) Tacos with Spicy Pulled Pork, Salsa Roja, Pickled Onions and Coriander, (6) Tacos with Lightly Battered White Fish, Avocado Puree, Chipotle Mayo, Fresh Cabbage and Coriander, to name a few. Brunch will be held in two sittings, with the first sitting from 11:30am to 1:15pm, and the second sitting from 1:30pm to 3:15pm. Limited number of tables available at Ask for Fern, hence prior reservation is recommended.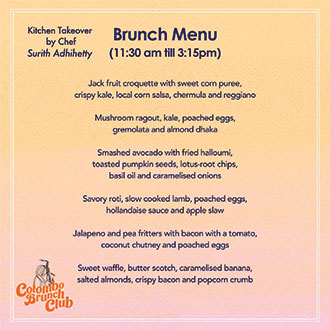 The entertainment line up at The Chiller Room will include DJ Sarini (Australia), DJ Clifford Issac (Sri Lanka), DJ Mercue (Sri Lanka), DJ Ace (Sri Lanka), DJ The Music Director (Sri Lanka), DJ Davis Machin (Spain), DJ Sajay (Sri Lanka), DJ Budi (Sri Lanka), Binu on Saxophone, Suranjana on Congo and Estonian face painting artist, Kristiin Liisa.
Early bird tickets for the event at The Chiller Room are now on sale and priced at Rs. 2,500 till the 23rd of January 2022, and thereafter the second release of tickets will be priced at Rs. 3500.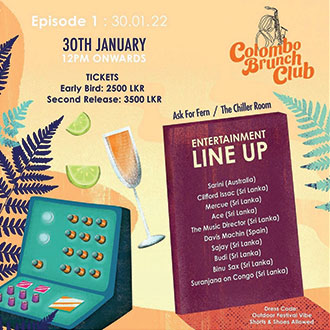 The ticket fee includes entry into the event at The Chiller Room. The dress code for the day is outdoor festival vibe, and shorts and shoes will be allowed. All health and safety protocols will be adhered to at both venues throughout the day, and all staff have been doubled vaccinated.
For more exclusive details pertaining to the event stay tuned to Daily Mirror Online and HI! Online on Facebook and Instagram. Fun and entertaining TikTok content of the event will be available for viewing via HI!! Online TikTok. Stay tuned.