When visiting Kandy there are two things people look for, a quiet place surrounded by nature so that they can unwind and relax or a place in the city close to all the attractions. I found the latter in the heart of Kandy which is a stylish restaurant and bar named Hideout Lounge.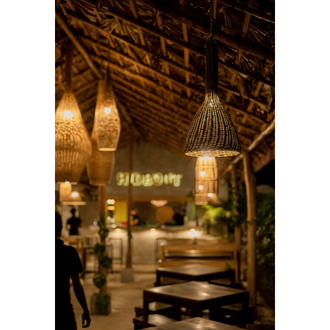 This chic restaurant and bar grabs the attention of locals and tourists because of its unique bohemian interior which is not common in Kandy. You don't feel like you're in Kandy when you enter this location as it gives you a down south or Arugambay vibe because of the beautiful rattan light pendants hanging over the dining area.
Located in the heart of the city, the Hideout Lounge is a short 5 minute drive from the Temple of the sacred tooth relic (Dalada Maligawa) and a 12 minute drive from the Kandy train station. Even though it's located on the busy street named Sangaraja Mawatha, its large gates and fence gives you enough privacy from the busy streets and space to move about and have a relaxing meal in the buzzing city.
It's popular amongst Kandyans for being the place to have a good meal and great drinks. They have a reputation for serving the most delicious and creative cocktails in Kandy.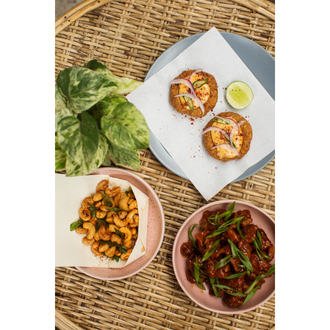 The Hideout Lounge Kandy is also a popular spot for breakfast and have just updated their menu with a few delicious additions. I would recommend our readers to try their pizza as they are known to serve one of the most delicious pizzas in Kandy.
My friends and I have made this our regular spot for breakfast and meet ups since they start serving breakfast from 7:30 which is earlier than most places in Kandy. If you are a coffee lover you must try their Iced Latte which is a personal favorite. I would also recommend another personal favorite which is their Hummus dish and Churros.
Though the main focus of the place is their restaurant and bar they also have spacious rooms for those looking for a clean and comfortable place to stay when in Kandy. The rooms are equipped with a large double bed and clean and spacious ensuite.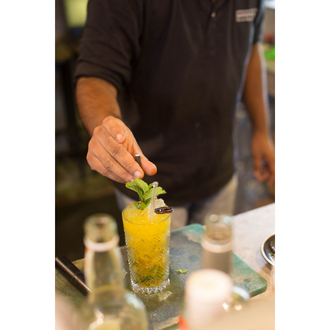 The Hideout Lounge is one of the few venues to host various events such as their weekend Boozy Brunch which is a first for Kandy. Their brunch consists of a beautifully presented and delicious platter accompanied by a glass of rose wine. They also have seasonal events and parties with a very select crowd and are some of the most looked forward to events in Kandy. They will be hosting a popup market for the December festivities on the 11th of December which will be another good event for the locals and those visiting Kandy.
I cannot end my review without mentioning the level of service provided by their staff. The staff at Hideout Lounge are a breath of fresh air. These guys will welcome you with a smile even if you visit them 10 minutes prior to closing time which is 11pm. I know this because I experienced it myself. We happened to drop by for a late night coffee as all other places in Kandy were closed but they served us with a smile and didn't rush us to finish our beverages.
I would recommend Hideout Lounge in Kandy if you want to have breakfast with the girls, date night, drinks with your pals or even for a quick coffee on your own. The food and drinks at this place is definitely a 10/10.