If you're in the mood for brownies, word on the street is that @September_sl is the account to follow to satisfy those brownie urges. September is a small home business started by a mother-daughter duo and has been in existence since January 2020. While our life goals at 15 were probably along the lines of Doctor/Engineer, Sashani Piyasena (a passionate home baker by morning and an enthusiastic business consultant by day) made it her life goal to nail the perfect brownie recipe that is neither overly cakey nor gooey.
Now when I say they have a brownie to suit whatever craving you may have, I'm not exaggerating in the slightest. I managed to taste test some of them last weekend, and here's a breakdown of the brownies I tried and why I think she DID nail the perfect brownie recipe. Or should I say recipes?
The Flavours I Tried
Chocolate Chunk Brownies (LKR 2200)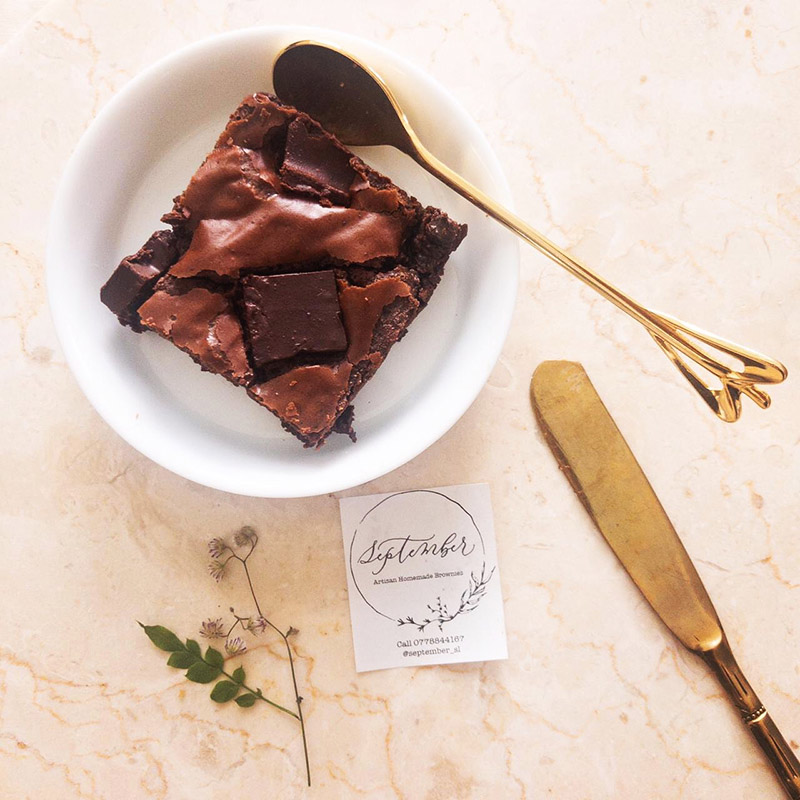 This is hands down, the ideal chocolate brownie for your period cravings. While they do have a separate classic chocolate brownie, the chocolate chunks in this flavor is intensified by a whole lot. Personally, I felt like this was too much chocolate for me to handle in one sitting but to quote the words of the other taste testers at my place, "I'm talking crazy."
White Chocolate Brownies (LKR 2250)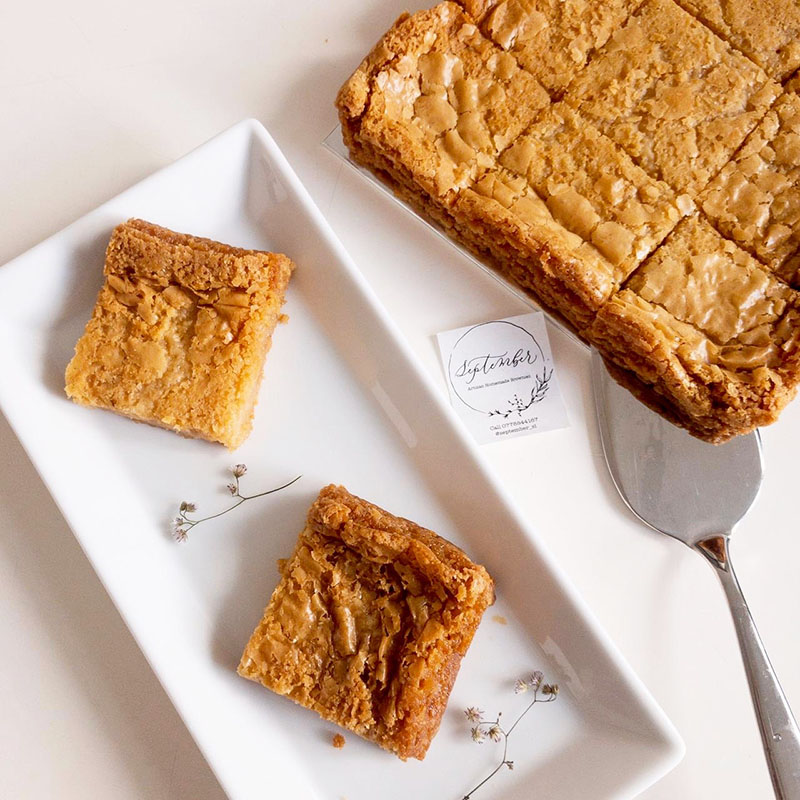 These blondies were my absolute favorite from the flavors I tried. Not only was it the right amount of gooey and chewy, but it was also completely rich in flavor which is very unusual to expect from a white chocolate brownie. I was very hesitant to pick this flavor, but boy am I glad. It would have been an absolute waste to have missed out on something that tasted as good as this. To simply put it, this flavor is an absolute MUST TRY!
Salted Caramel Brownies (LKR 2500)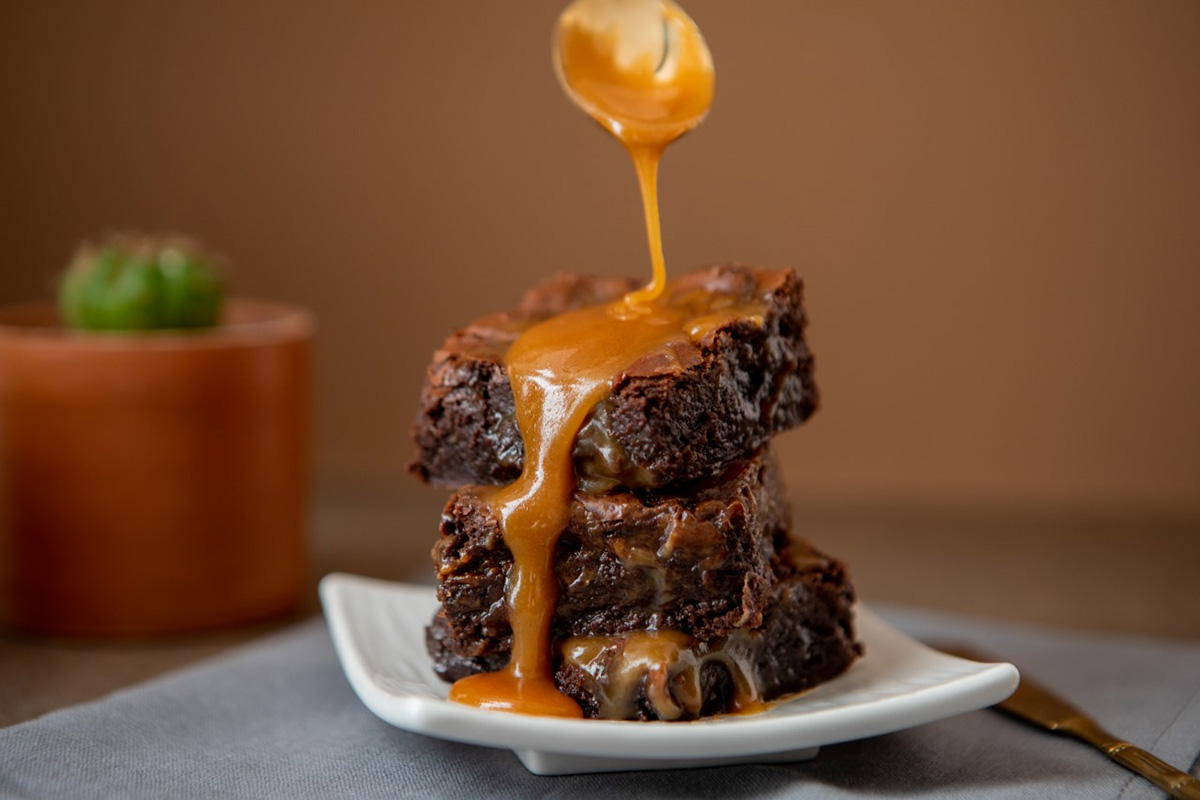 One can never have too much caramel. That being said, a little more caramel sauce on my brownies would have been absolute. This could have probably been because I already had a go-to salted caramel sauce long before I got to the brownie. All the same, it was the perfect balance of sweet and salty. A good Salted Caramel brownie is quite hard to find in the local market and September went above and beyond to deliver one of the best.
Red Velvet Cheesecake Brownies (LKR 3000)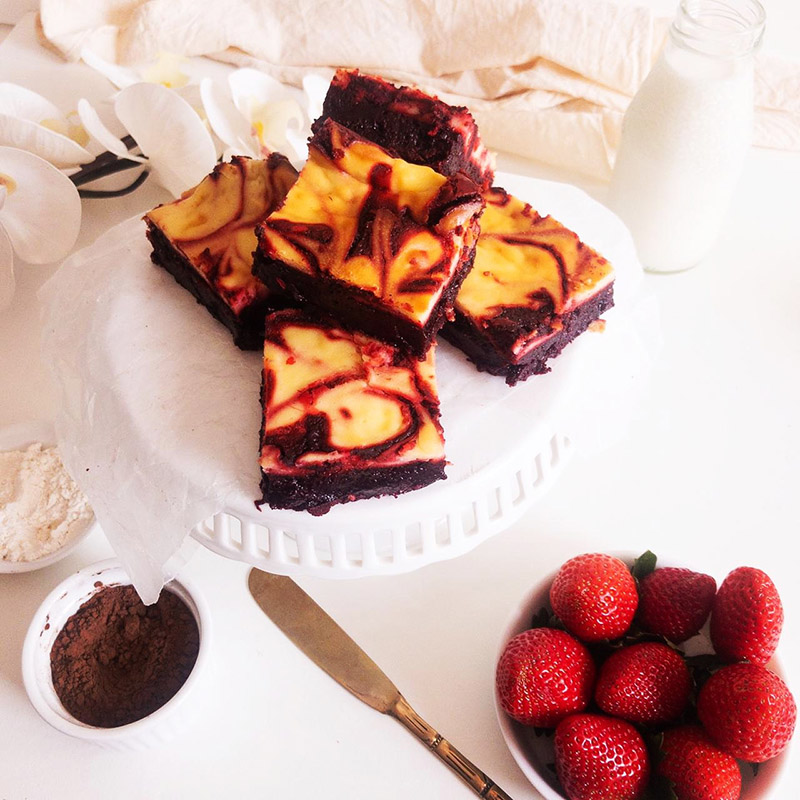 Now this was a flavor I never expected to like as much as I ended up doing. Red Velvet is not something my taste buds are overly fond of, but these September brownies got me rethinking my preferences. It was extra soft and creamy as a cheesecake should be. The cheesecake paired with the red velvet base was a completely different experience for a brownie altogether. An experience that is not worth missing out on!
If your taste buds are looking for something in the comfort zone, their classic brownies are sure to do the trick. If you're feeling a little boozy, their alcohol infused range will surely get you where you need to be. Here's a look at their menu and what to expect from each flavor.
Other Flavours
Classic Brownies – LKR 2000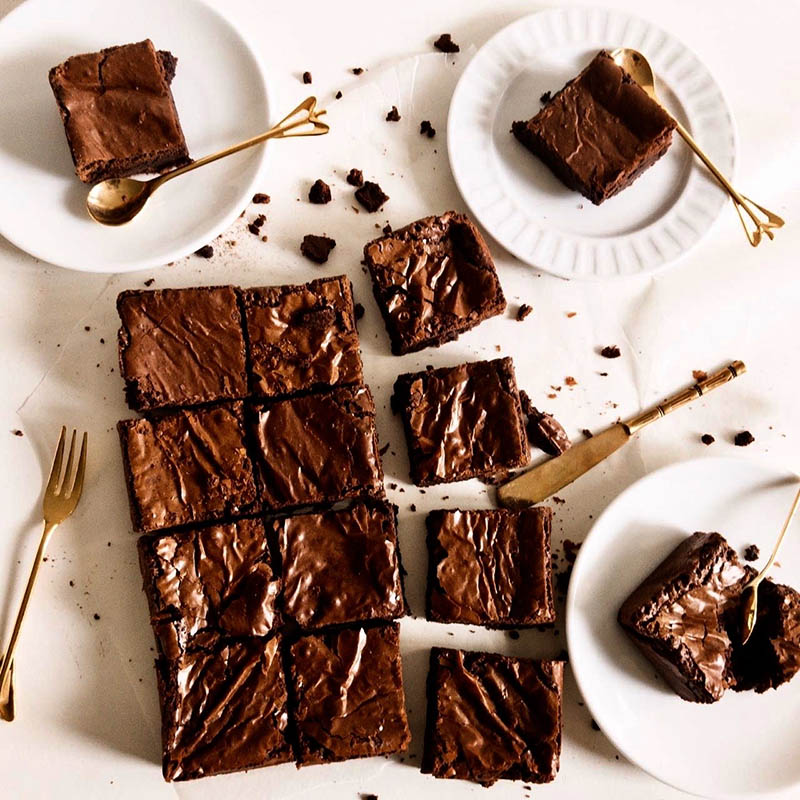 Made with dark chocolate, these classic brownies are rich, fudgy and gooey with a tissue-thin, crinkly crust on top.
Peanut Butter Swirl Brownies - LKR 2300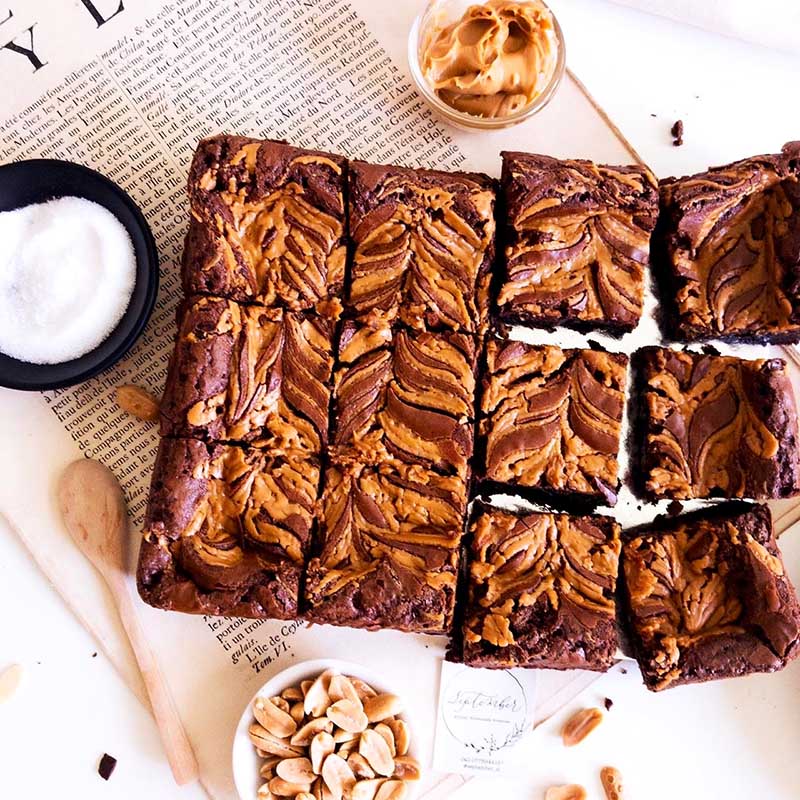 Chocolate and Peanut butter were made for each other! Pure, rich, creamy, peanut butter is swirled into their classic brownie batter taking these morsels up a million notches!
Raspberry Brownies – LKR 2500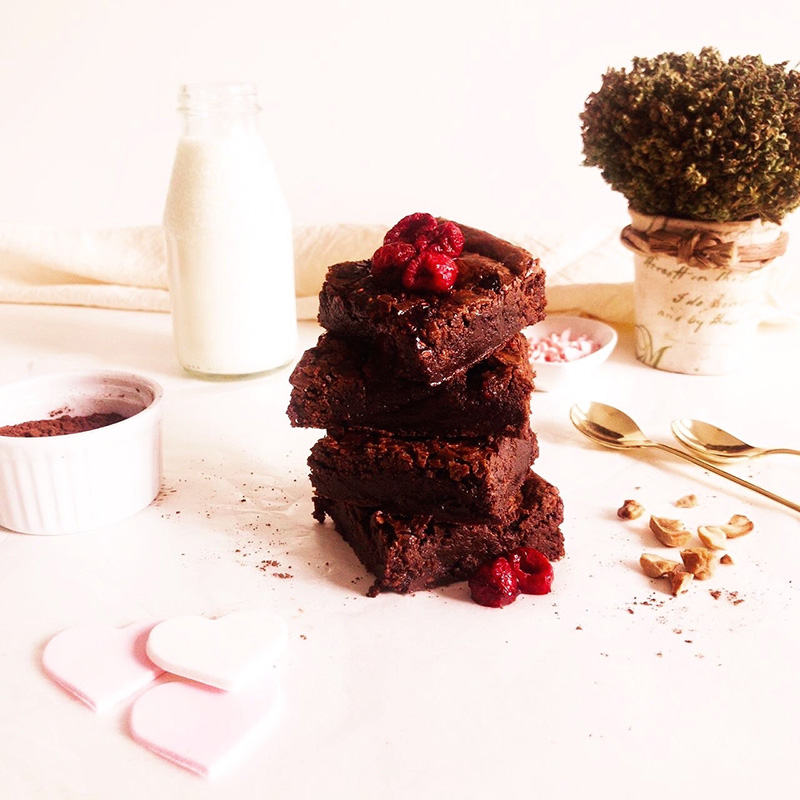 Dark chocolate, tangy raspberries and a luscious gooey center make these brownies an irresistible dessert.
Add-ons
Cashews 250
Add a generous portion of organic, high-grade cashew nuts - chopped and oven-roasted to give your brownies a wonderful crunch with every bite.
Almonds 350
Add a generous portion of organic, sliced almonds to give your brownies an added texture.
Boozy Flavors
Jack Daniel's Brownies
Flavors of vanilla, caramel, butterscotch, and the signature notes of toasted oak from the Tennessee Whiskey does wonders to an already mouth-wateringly delicious dessert - making their JD brownies a must try!
Bailey's Irish Cream Brownies
The flavors that make up the Irish Cream liqueur, it's creamy, velvety texture and tantalizing aroma, complements the brownies so well, resulting in a melt-in-your-mouth dessert that is bound to leave you craving for more!
Hennessy Brownies
They've got your nightcap in dessert form, what more could you ask for? Try their Hennessy infused brownies, you won't regret it!
September operates on a pre-order basis and orders should be placed at least two days in advance since they work towards ensuring your brownies are freshly baked just for you. Brownies are sold by the box and contains 12 generously sized pieces. The minimum order quantity is one box.
Apart from the mouth-watering brownies they have to offer, September also comes through with customizations transforming these brownies into an exquisite gift. You can customize wordings on the brownies and add in handwritten notes as per your request. Both free of charge. In addition, they also do custom icing drawings etc. and charge a small fee depending on the complexity of the request.
Overall, September has a variety of flavors that will have you coming back for more. Their menu is constantly evolving, and new flavors are currently being experimented with and are promised to make its way to the menu over the months to come. Place an order and experience the flavorful hype for yourself!
#Food #Foodlovers #Foodie #Dessert #Brownies #ChocolateBrownies #WhiteChocolate #Chocolate #Foodstagram
#FoodPhotography #dessertstagram