Crepe Runner has been a topic of discussion in the culinary scene since 2019 when they started off in a food truck down Marine Drive, revolutionizing the food truck industry in the area. Once things took off, Crepe Runner owner, Abdus Salaam opened up his first Crepe Runner café in Mount Lavinia. Soon after, he and his team went on to open a stall in the food court at the Maharagama Cool Planet. With restrictions eased and dine in allowed, I finally managed to head on over to Crepe Runner's newest outlet in Colpetty which is located down the Marine Drive stretch and hop in on the hype myself.
If you're looking for a casual date spot or a quick lunch fix with your friends, the Colpetty café will definitely peek your interest. While it is a small café with limited seating, the ambience set for the place is cute, cozy and gives a perfect view of the sea regardless of which table you're seated at. To add to the bright side of the setting, the workstation is also completely transparent to the customers giving us the confidence and assurance that everything is prepared following the necessary health and safety protocols. An additional plus point for their choice of music playing in the background.
With the café atmosphere and placement out of the way, now to focus on what really matters. Food and Beverage. In about 10 minutes after placing the order, we received our drinks.
Here's what we had.
Passion Mojito (LKR 250)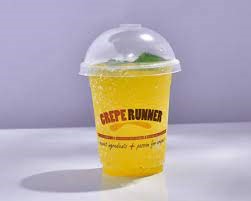 This was extremely refreshing given the heat my body was recovering from after that sweaty tuk ride. It had the right level of tanginess and soda with the passion fruit flavor mixed right in.
Brownie Milkshake (LKR 450)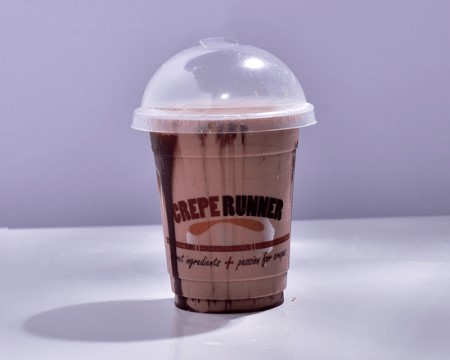 While we expected this to be too sweet for our liking as most brownie shakes usually are, it most definitely was not. There were no brownie chunks as such and was the perfect answer to a chocolate crave.
It goes without saying that both beverages are completely worth the money.
Now on to the star of the show. The crepe. With its various fillings that could be the answer to whatever food and flavor your stomach and heart yearns for. The crepes took about 15-20 minutes to be served after the order was placed. It was warm and crispy when it made its way to the table.
From the range of 'Classic Sweet Crepes', we tried out the following.
The Choc Force - Cadbury Chocolate (LKR 400)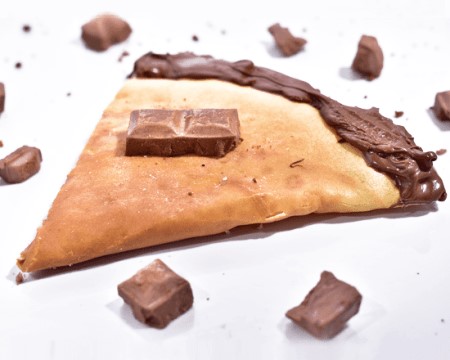 Strawberry & Nutella (LKR 430)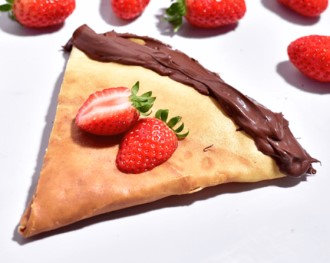 Nutella & Brownie (LKR 450)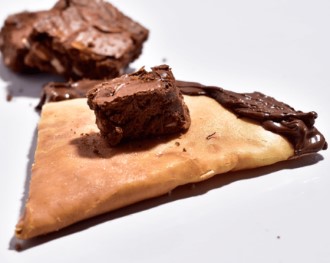 The crepe was soft and tasted amazing but personally, there was just too much Nutella for my palate to handle. This could also be because Nutella is usually a big 'no no' for me, which also makes me wonder why everything is Nutella based. But if you're crazy about Nutella, you do have a galore of options to make your pick from. Your choice of filling ranges from marshmallows to strawberries to nuts to cornflakes and much more. It truly is a party for your taste buds.
However, I did love the Strawberry and Nutella mainly because the crepes are generously loaded with as much strawberries as Nutella adding the right balance of flavor to the treat.
If you're fussy with Nutella as I am, my tip to you would be to request to reduce the amount of Nutella spread in.
From the 'Savory Crepes' here's what we feasted on.
Chicken Slayer (LKR 450)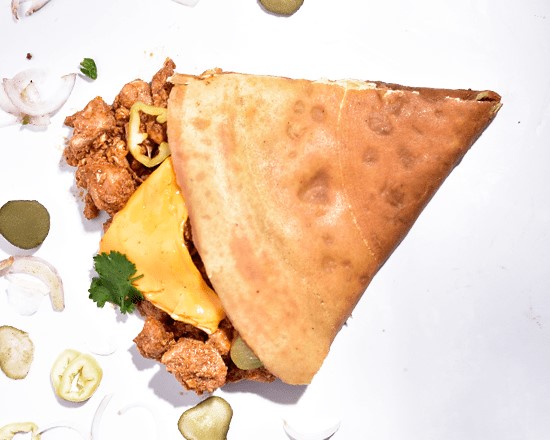 Minced Beef (LKR 400)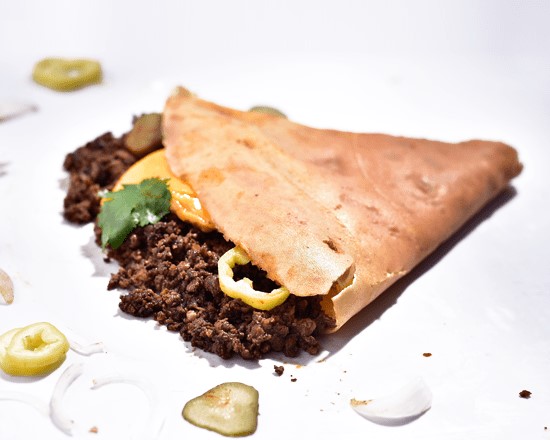 While my heart usually belongs to all things chocolaty (leaving Nutella and a few other things out), these savory crepes stole the show. The meat, the cheese, and the herbs all blended together not only smelt great but tasted absolutely divine as well. On a normal day, I wouldn't have dared to give a savory crepe a go but I can only ask you to give these crepes a chance so you can tell me how right I was about them.
I simply cannot tell you which savory crepe I preferred over the other as they were both so equally appetizing. If my taste buds could talk, it's a fact that they would thank me over and over again for blessing them with crepes that tasted this good.
In the case of the crepes, I would say again, money well spent.
Aside from the reasonable pricing system, their customer service deserves a fat 10/10. The Crepe Runner staff serving us with big smiles were tremendously helpful, friendly and hospitable. They even went to the lengths of giving me a customized 'Thank you' note.
While everything lived up to the hype, I would like to see the Crepe runner team tackling my issue with the Sweet Crepes and adding in other forms of sweetness. A chocolate ganache maybe, or even a caramel sauce. Something. Anything.
To conclude, the answer to the question of 'to Crepe or not to Crepe?' is without a doubt to Crepe! I'm already craving to Crepe. I hope you are too.
#food #beverage #crepes #creperunner #goodfood #colombo #dinein #nutella #chocolate #savory #cafe #foodtruck #foodandbeverage #delicious #milkshake #mojito #beachview