By Tarushi Peries
Yasmin Cader, the Queen of PR in Sri Lanka, launched her own Café last year. Having entered into the business a few months ago, she started small with cakes and our all-time favorite Ice Cream. No sooner she expanded her business with savory items as there was much demand for them. In spite of the pandemic situation and being a strong personality who never gives up on anything, found ways and means to continue her business. Café Yasmin's has become a must visit venue in Colombo. We had the pleasure of speaking to Yasmin at her café recently.
How would you describe Yasmin's?
Yasmin's was conceptualized as a coffee, ice cream and dessert venue, a chic and functional place for everyone! A variety of cakes from Cake Factory and artisan Ice Creams by Carino was my choice which was greatly appreciated by the locals in this area and extended neighborhoods!
What inspired you to start your own business?
It was not really a case of being inspired but this being almost a forgotten dream where from nowhere this opportunity was suddenly put in front of me; I just had to take it on! I was asked if I would like to open a café inside the Masterpieces showroom in Madiwela, and I gladly accepted the invitation.

What was the journey like, starting from where you were to where you are now?
Well, once the seed was planted in my brain, I put together an operational plan and within two weeks we were all set to go, with signage, etc. We worked day and night and I was fortunate that Masterpieces had the furniture and other resources I needed to get the area allocated to me set up. I approached Carinos, the well-known Ice Cream brand to supply their ice creams, and Cake Factory with their delightful range of cakes which I wanted to retail besides other items such as beverages.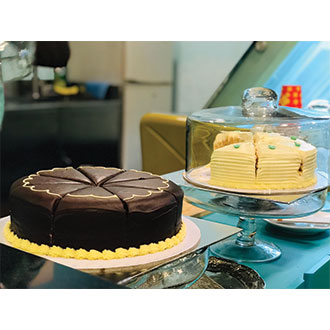 What were the hardships you faced as an Entrepreneur?
First of all, I had quite a run around registering my business. All of this has been a first for me and I was willing to learn the ropes of running a business on my own. It was a sink or swim situation! Employing the right staff was another learning curve. I was the HR person, the proprietor, the purchasing person, pretty much many roles rolled into one. Subsequently, I also began making my own special treats which were also well received by our customers! Dealing with the pandemic, the frequent opening and closing of the Café was the toughest hardship I faced during this year as we could never meet our sales targets and therefore struggled financially to keep it alive.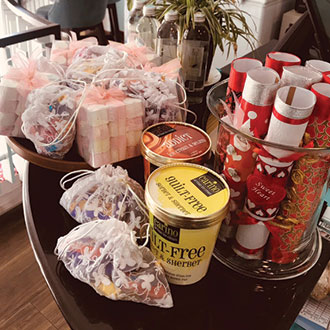 Being an Entrepreneur what was it like facing the global pandemic? How did it affect the business?
Really badly, as I mentioned above. I had to think of ways and means to promote our goods and decided to do deliveries which helped. Luckily, my Manager Angerlina and I were able to come to the café and operate from there. At the end of the day, my thinking was that some money made was better than no money being earned!

What motivates you to do what you love doing?
The challenge I am facing and wanting to make this work. So I enjoy coming up with new ideas and what I can introduce to our existing range to excite our customers. Additionally, since I love to cook, it gives me great pleasure to rekindle my expertise and passion towards what I love doing most. It keeps me occupied too now that I am retired, and since 2019 with everything that has happened in Sri Lanka which had a negative impact on event planning which I did up until then; this opened a new chapter in my life.

Why did you decide to enter this industry?
I have for many years wanted to run my own café but was never able to fund it. So, when the opportunity
came my way even at this late stage of my life, I took it on. I was able to tick off one more item in my
bucket list! Also, here in our area, there are many lovely restaurants offering Sri Lankan, Indian, Chinese,
Korean, Japanese, and other cuisines, but nowhere was there a nice place to just have a coffee and a piece
of cake, or ice cream etc. at a venue where one feels comfortable and safe. The other main factor that I
agreed to take this on was that it was so close to where I live.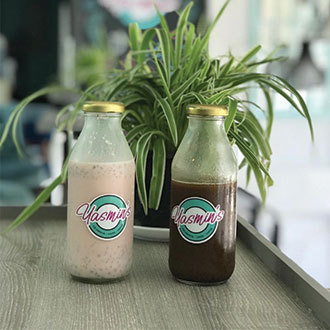 What separates Yasmin's from its competitors?
Honestly, I never aimed at competing with anyone? I just wanted to be different to other places be a family "must go to" place and hoped that it would win a place in the heart of prospective customers! Customer service is something I revel in and instill it in my staff. I also ensured that I focused on kids and organized several programs and competitions during special calendar days; where even on Valentine's Day, it was teaching kids that Valentine's Day meant to love and be loved! It was the same during Easter, Mother's Day, Father's Day and so on. I believe it was a first in this locality to organize Iftar during the holy month of Ramadan where special dishes were made and enjoyed by all.

How did you discover your passion for your business?
Actually, I am not the businessperson I should be, but this been a passion and dream of mine, it has been on my bucket list since forever but, I was never able to afford to do something like this on my own.

Tell us a bit about your menu. What's your favorite item? What item is the hardest to make? What
is the most popular item?
My concept originally, was to have an exclusive dessert eatery with the main focus being on ice cream and cakes. We offer 16 flavors of artisan ice cream. But sooner than later I received many comments asking for something savory and that everyone doesn't go out just to have desserts or something sweet. It was a need for friends to catch up! When it came to beverages, we started off with a variety of brewed coffees like the popular espresso, cappuccino etc. which later extended to lattes, caramel lattes, hot chocolate and our traditional home brewed ginger tea which is now the hot favorite with our customers! I introduced Waffles which complemented a scoop of ice cream and toppings and churned out a chicken and veggie option as well for these waffles which are made then and there hot off the pan as it were! However, it does take more time than dishing out an ice cream sundae, a coffee, or tea. Every customer now has their own favorite item from our simple blackboard menu, so I can't really say which the most popular item is. To each is his or her own.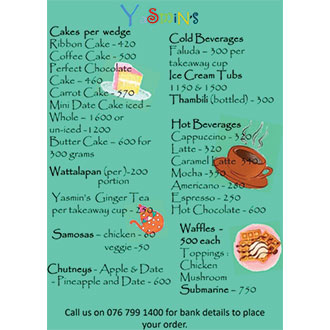 Have you tried and failed with anything in the past?
Since running a cafe is a first for me, I have never done anything food related in the past other than entertaining family and friends at home. My past has been a journey with the hospitality and hotel industry, so I always worked and happily for others!

What is the end goal?
I can't wait to see normalcy return where we can run an operation such as ours without any sudden and frequent disruptions. I have really seen and experienced difficult times throughout these past few months with no hope of seeing light at the end of the tunnel. But I have always faced challenges and together with my staff can only live-in hope, do our best and most importantly remain more than grateful to our customers who have become family to me beside my extended family members who have supported me throughout this journey thus far.

Yasmin's is for sure a must go to café everyone should try out!